Have you been wondering which attractions offer single rider at Disneyland? Perhaps you're not sure where to head if you want to fly solo. In this detailed guide, you'll learn everything you need to know about single rider queues at Disneyland!
If you're all about reducing wait times at the parks, then you need to learn about single rider at Disneyland.
It's one of the best ways to queue-jump (in a totally acceptable way, of course!). Plus, a few of the best big-ticket rides are included on the rundown of single rider lines which can be amazing during peak periods.
If you've been looking for the ultimate guide to single rider at Disneyland – I've got you covered.
This rundown covers everything from age limits and top tips to maps and locations of even the most hidden single rider lines.
And I'll run you through a few frequently asked questions that should answer every query you might have!
Now let's do this.
What is a Single Rider at Disneyland?
A single rider line at Disneyland is essentially a separate line that keeps attractions full.
So, a single rider will be pulled out of the queue and used to fill an empty seat if there's a row of odd numbers.
For example, some rides seat 3 or 5 people (like Radiator Springs Racers!) which makes a single rider pass an excellent idea.
You will very rarely get to ride with the rest of your group, but you might be lucky and be seated infront or behind each other!
The goal of the single rider queue is to keep the standby line moving quickly and avoid sending ride carriages half-full.
How Old Do You Have to Be to Ride Single Rider at Disneyland?
There is a Disneyland single rider age limit and it's currently 7 years old.
Although 7-year-olds will be allowed to ride, you'll need to check whether they'll be comfortable riding alone.
They need to be able to handle themselves on rides with instructions from Cast Members. So, if you don't think they'll be able to deal with this – don't head to the single rider queue.
You'll also want to make sure you meet your child at the exit of attractions to avoid anyone getting lost.
What Rides Are Eligible for Single Rider at Disneyland?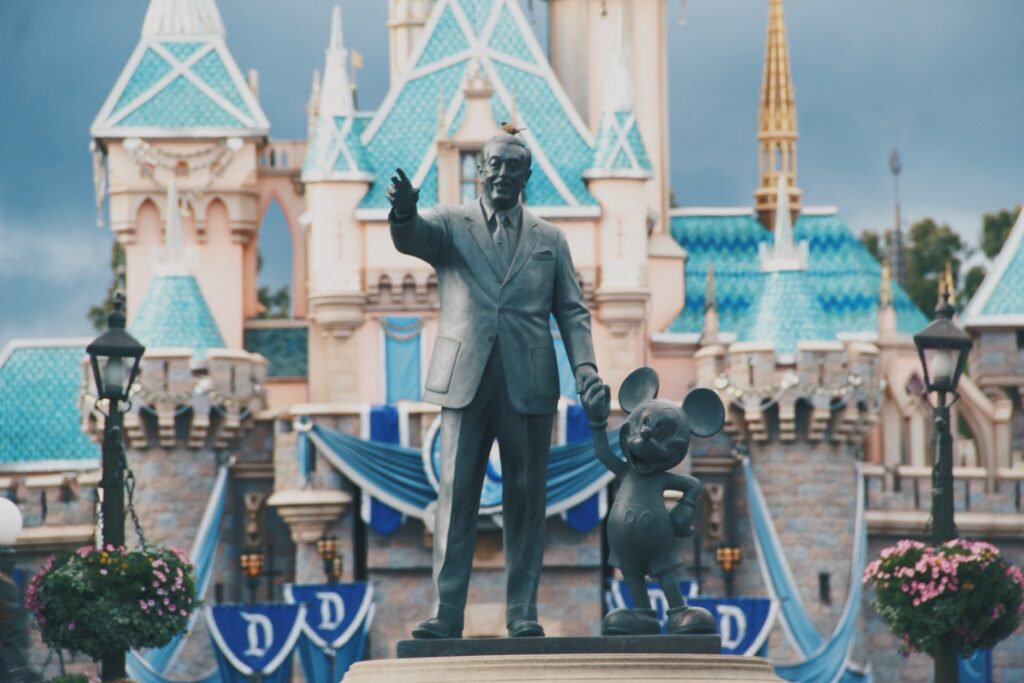 It might be disappointed, but not every single attraction is eligible for single rider at Disneyland.
If you want to save yourself the hassle of patrolling the parks, here's a list of every ride that has a single rider queue!
This list is accurate as of 2023, but I'll make any amendments as time goes on! Disney occasionally adds or takes away lines – so be warned.
What Single Rider Lines Are There at Disney California Adventure?
Where Are the Single Rider Lines?
If you're wondering where the single rider lines actually are, I've got you covered – with maps too!
Disneyland Park
Splash Mountain
The Splash Mountain single rider queue can be found in Critter Country. There are signs by the exit that direct you in but ask a Cast Member if you get confused!
Millennium Falcon Smugglers Run
This single rider queue has a separate line entrance at the front of the queue which usually displays a wait time. Just be warned that you will get a pre-assigned role before riding (usually an engineer – boo!).
Matterhorn Bobsleds
The entrance to this single rider queue is in Fantasyland and you'll be able to ride in your own section which is a plus!
Disneyland California Adventure
Goofy's Sky School
The entrance to the single rider queue is in Paradise Gardens Park and there are clear signs that will take you to the front.
Incredicoaster
The Incredicoaster is in Pixar Pier and there's a clear entrance that will guide you to the single rider queue. The line is quite slow, but it's still worth checking out!
Radiator Springs Racers
This single rider queue is in Cars Land and has a separate queue for single riders. It usually stays below 30 minutes, but don't be surprised if it rises as the standby queue can be over 2 hours on certain days.
Grizzly River Run
You'll find the entrance to the queue in Grizzly Peak and the single rider queue takes you through the exit. Just be warned that they often close this line on hot days as it becomes a fire hazard!
WEB Slingers: A Spider-Man Adventure
There's a dedicated single rider queue at the entrance and it's pretty clear!
Disneyland Single Rider Wait Times
It might sound obvious, but there's almost no way to tell exactly how long single rider wait times will be at Disneyland.
When the park is busy, they'll rise. When it's quieter, you might get away with a 5 or 10-minute wait.
Overall, you can expect the single rider line to be significantly shorter than a typical standby queue. And honestly, I always recommend doing it for Splash Mountain as the queue times can be extremely long.
I've always found that single rider lines on popular attractions like Radiator Springs Racers are longer, while group attractions like Smugglers Run can be shorter.
There are also shorter wait times for lesser-known attractions like Goofy Sky School (as some people just don't do it!).
I also thought I'd mention that you'll always wait longer around Thanksgiving, Halloween, and Christmas at Disneyland. For this reason, I recommend visiting Disneyland on quieter days or outside of holiday periods.
The Pros and Cons of Single Rider
Although using a single rider queue at Disneyland can save you a bunch of time, they're not always the magic bullet you might think.
So, if you're not sure whether using them is worth it – here's a list of pros and cons you can weigh up!
Pros
You can save serious time versus the standby line if you time things right.

I've noticed that this is particularly useful during peak park times.

If you're traveling as a family and only one person enjoys thrill rides, it's a good way to tick them off quickly.
If you're visiting the parks alone, it's an awesome way to barrel through rides without waiting in the regular queue.
Cons
There isn't a huge selection of rides you can choose from.
You won't be able to ride with family members which can impact the amount of fun you'll have (and isn't great for families with kids!).

I also think this is a bummer if you're riding anything that has a competitive element. Nailing WEB Slingers with a stranger just won't have the same impact as if you're with your party!

The single rider queues can sometimes close without notice if they get too rammed.
You won't get to choose where you sit.

Granted, you don't always get to anyway – but you're more likely to be sat in a back row or front row if you're in the regular queue. Single rider is all about filling those gaps!

There's a chance that Cast Members just won't prioritize you if the park is busy.

If there are too many families with even numbers passing through, they're likely to hit the regular standby lines instead of the Single Rider line.

It can be useful for families, but it's limited to kids over 7 which can be difficult (especially if you're riding kid-friendly rides like WEB Slingers!).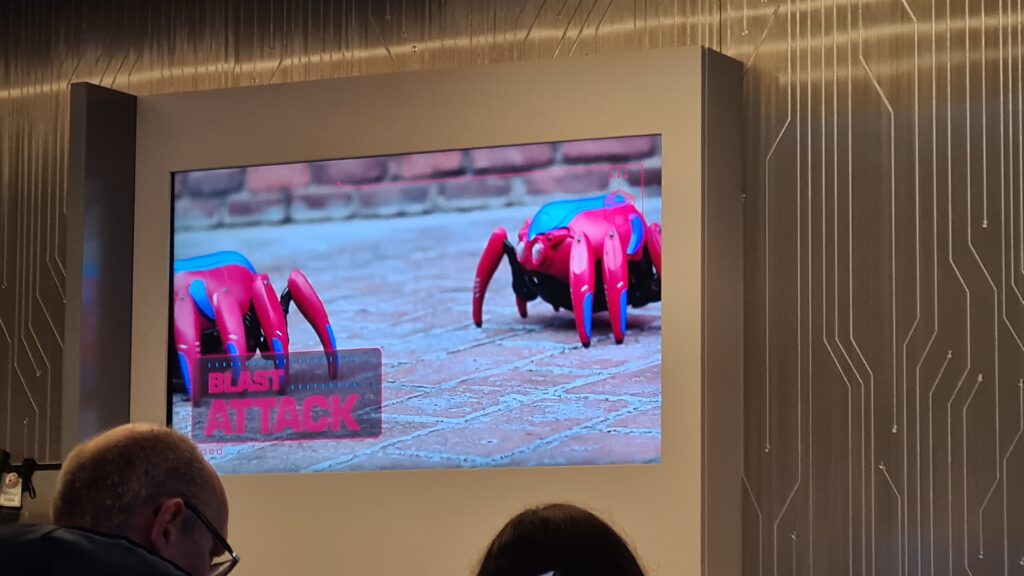 So, Is Using Single Rider at Disneyland Worth It?
This is entirely down to the day you visit, the current crowd levels, and how your party is made up.
If you're traveling alone or as part of a couple, chancing the single rider line at Disneyland can save tons of time.
But if you're at Disneyland with toddlers or small children, there will always be someone left waiting with the kids.
Plus, older children may not feel comfortable riding with strangers in the single rider line – so, you should account for this too!
I'd say that Single Rider can be worth it for rollercoaster rides or anything that isn't interactive. But if you're planning to check out WEB Slingers, part of the fun is riding with your group.
It's also worth mentioning that rides like Millennium Falcon will assign roles in the queue – with the single rider line, there's no choosing.
The main benefit of using the single rider queue at Disneyland is that you save time and might get to attractions more quickly.
So, if time is no object – it probably won't be worth missing out on the full group experience.
Oh, and don't forget the fact that you miss any fun theming that you find in typical queue lines!
Overall though, I'd say that the time savings are absolutely worth it if you only have a single day in Disneyland.
It's all about your priorities!
Tips For Using Single Rider at Disneyland
Be patient
This may sound weird, but you should still be patient if you head into a single rider queue.
It's usually faster than the standby queue, but if there simply aren't many empty seats you won't get on.
To avoid getting frustrated, stay calm and hop on your phone to pass the time.
If you're really bored, you can trawl through a few of the best Disney apps or work out some great Instagram captions for your feed.
Check the wait time indicators carefully
I briefly touched on this, but single rider lines at Disneyland aren't always going to be your best bet.
If the wait time indicators rise above 30 minutes or so, you'll be better off riding with your group in the standby queue.
Keep an eye on kiddos
This probably goes without saying, but if you're not riding with your child – make sure they meet you outside.
They should be absolutely fine, but as kids can go into the single rider queue at 7, they may worry about finding you afterward.
So, give them a clear and designated meeting spot that you can all gather at after riding.
Single Rider at Disneyland Paris
Although this article is mainly about Disneyland California, I thought I'd quickly mention which rides in Paris offer single rider.
And just so you know, anyone can join the single rider queue in Paris – just be warned that wait times can climb above 30 minutes.
For this reason, you'll want to weigh up whether you're actually going to save time or not.
Attractions with single rider at Disneyland Paris
Hyperspace Mountain (the only ride in Disneyland Park to have single rider!)
Crush's Coaster (Studios)
Toy Story Parachute Drop (Studios)
RC Racer (Studios)
Ratatouille: L'Aventure Totalement Toqué de Rémy (Studios)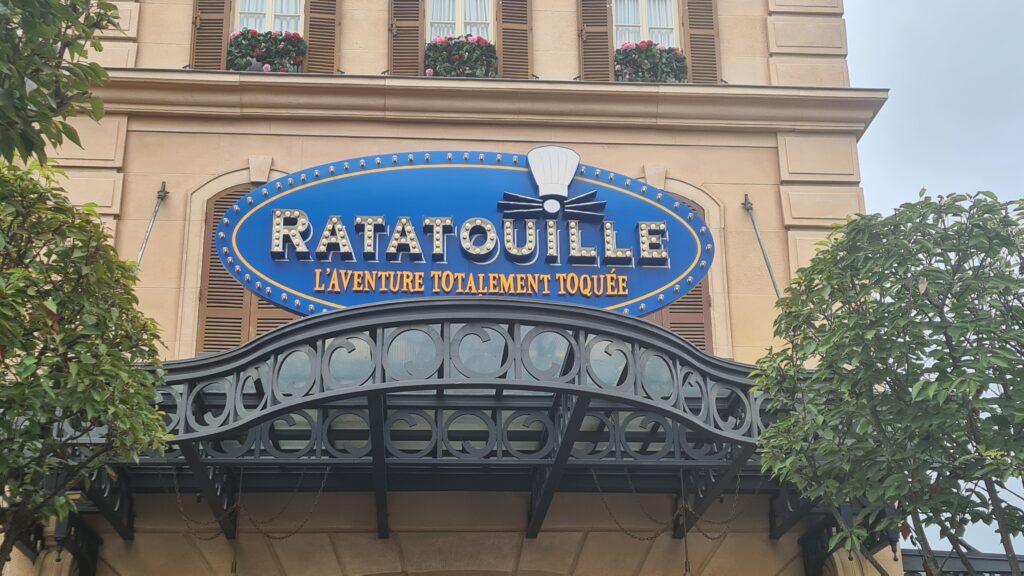 FAQs for Single Rider at Disneyland
Can you pay extra to skip lines at Disney?
Most of the single rider lines at Disneyland are also on Genie+. So, you can pay extra to skip these lines if you want access to Lightning Lane. The extra cost may not be worth it for every family, but it's a decent way to save time.
Do they close single rider queues?
Disneyland might close single rider queues if they get too rammed. If this happens, just rearrange when you ride to take advantage of shorter wait times.
Do celebrities wait in line at Disneyland?
Being a celebrity doesn't mean you necessarily get to skip lines, but Disney will often get celebrities onto rides through a secret entrance. It seems unfair, but it stops them from getting mobbed by crowds!
Can kids do single rider at Disneyland?
They can, but they need to be over 7 years old!
Does Ratatouille have a single rider line?
There's a Ratatouille single rider line in Paris, but there's currently no single rider line available at Disney World.
Is there a single rider for Tower of Terror?
There currently isn't a single rider line for the Tower of Terror – sorry!
Does Soarin' have a single rider line?
Soarin' had a single rider line back in the day, but it was removed and now only has Genie+ or regular standby access.
Does Indiana Jones have a single rider line?
Indiana Jones doesn't currently offer a single rider line as it was removed in 2022. I find this pretty bizarre as it rarely runs with entirely packed carriages – but that's just me! If you don't want to ride in the regular standby line, you'll need to grab Genie+ access.
Does Guardians of the Galaxy: Mission Breakout have a single rider line?
Guardians of the Galaxy: Mission Breakout doesn't have a single rider line yet. But it might be added in future!
Does Space Mountain have a single rider line?
I'm sad to say that Space Mountain doesn't have a single rider queue anymore. However, Hyperspace Mountain at Disneyland Paris does!
P.S.: if you want to learn about whether Space Mountain is scary, I've got you covered!
Does WEB Slingers: A Spider-Man Adventure have a single rider line?
Yes it does! It's relatively new but there's a separate access line for this attraction which is worth trying. This is because it isn't currently eligible for Genie+ access which can increase wait times hugely.
What is the longest single rider line?
The longest single rider line is usually at Radiator Springs Racers because it's just really popular. But the single rider queue will still be shorter than the average standby queue for this ride (which can be monstrous!).
There you have it: the ultimate guide to single rider at Disneyland!
Have you ever dealt with being a single rider at Disneyland? Do you think it saves time? I'd love to hear your thoughts in the comments below!
Related Posts: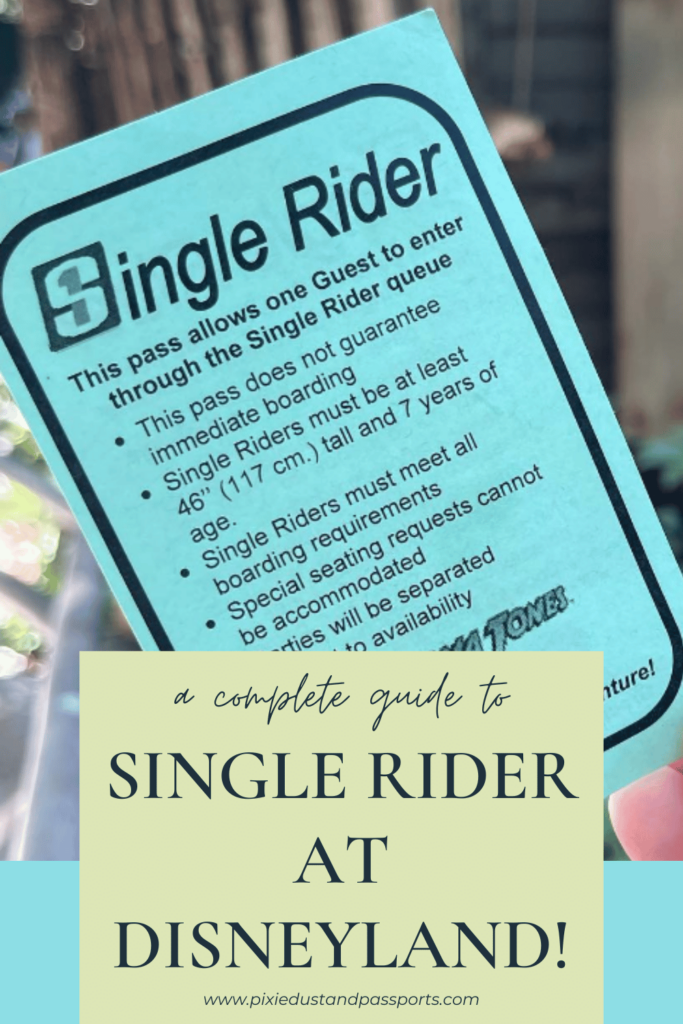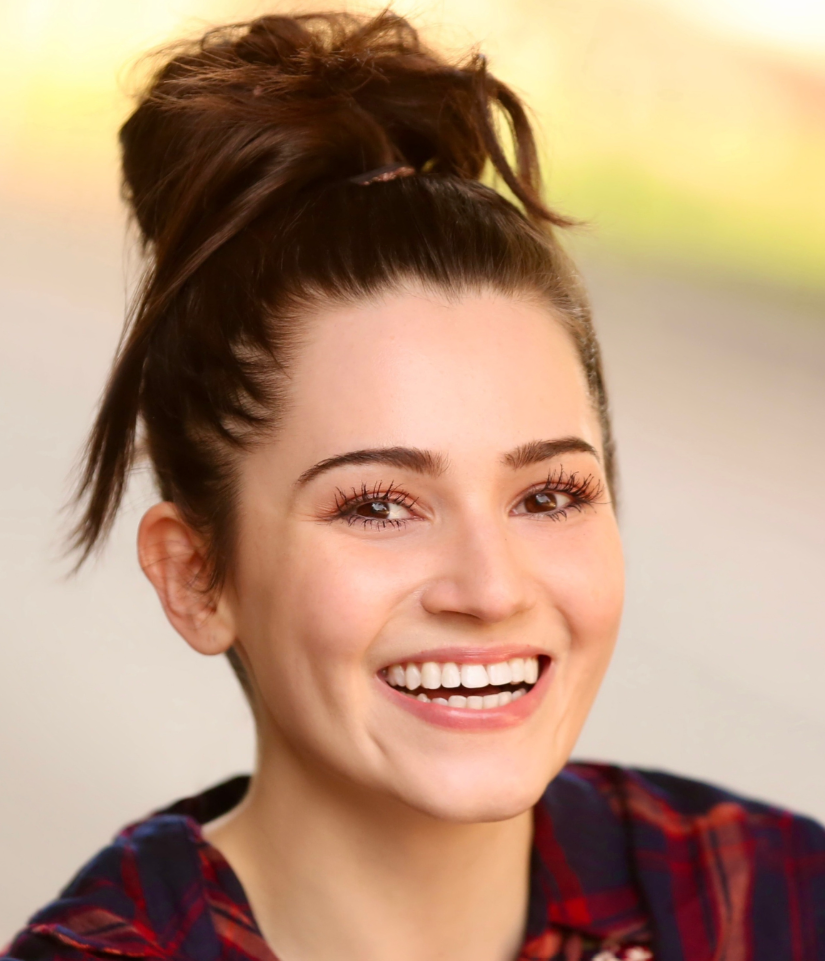 Grace is the creator, editor, and sole writer for Pixie Dust and Passports – a blog that's ALL about Disney! She's made it her life's mission to visit the Disney parks as much as possible and loves trying new snacks, grabbing the latest spirit jerseys, and rocking Loungefly bags. Oh, and she also holds a BA in History from UCL, which makes her a research and deep-dive enthusiast into all things Imagineering.