Have you been searching for the best-ever Pixar Luca Quotes that will lift you up? If so, you'll want to keep scrolling for my top picks!
Luca is an adorable Pixar movie that was released on Disney+ in 2021. I won't give too much away if you've not watched it, but it's all about discovering who you are, staying true to yourself, and learning to accept others.
So, it's perfect for kids and adults alike!
Although it's not one of Disney's most famous movies, there are several incredible Pixar Luca quotes that are bound to make you think.
Whether you identify with Daniela, Luca, Giulia, or Alberto, you're bound to chuckle (or be moved!) by these amazing quotes.
Now let's dive in!
Who is Luca?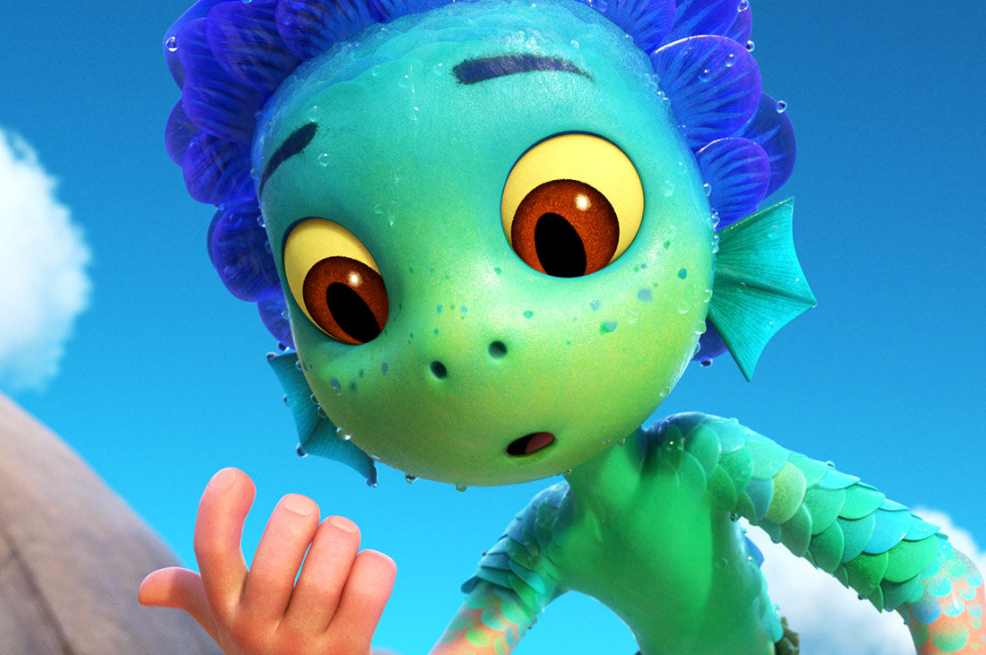 Luca is the main character in Luca, and he's an adventurous sea monster who longs to see life on earth.
He doesn't know it at the beginning of the movie, but he can assume a human form as soon as he's on land.
But as soon as he encounters water, he's turned back into a sea monster again.
For obvious reasons, this becomes a problem as the movie goes on.
Throughout the movie, he explores the town of Portorosso with his new friends Alberto and Giulia, eventually entering an exciting competition to prove his worth.
The Other Main Characters from Luca
Alberto
Alberto is the secondary protagonist in Luca.
He's a 14-year-old sea monster who adores the human world and loves having fun.
So, when he encounters Luca, he can't wait to teach him about all things human!
Although he doesn't have a supportive family like Luca, he's full of enthusiasm, is kind-hearted, and just wants to be loved.
Daniela
Daniela is Luca's mother and she's fiercely protective of her son.
Like her son, she's a fully-fledged sea monster but she refuses to let him go to the surface as she feels it'll be dangerous.
She's quick-witted and funny but is also over-protective and fails to see the benefits of exposing her son to new experiences.
Eventually, she warms up to the human world after searching for her son on land.
Giulia
Giulia is one of the main characters in Luca and she's an Italian teenager who's living with her super-buff father Massimo.
She's quirky but extremely friendly and is extremely kind to Luca and Alberto when she first comes across them.
After convincing them to help her win the Portorosso Cup, the trio forms a fierce friendship that sees them through to the end of the movie.
Lorenzo
Lorenzo is Luca's father and (as expected!) he's another sea monster.
He's not as over-protective as Daniela, as he's often distracted and focused on raising his prize-winning crabs.
However, he's still an incredibly loving father who looks after Luca's best interests.
Best Pixar Luca Quotes
1. "Silenzio Bruno!" – Luca & Alberto
2. "You've got a Bruno in your head." – Alberto
3. "The curious fish gets caught." – Daniela
4. "Walking is just like swimming but without fins or a tail. And also, there's no water." – Alberto
5. "You and me? We can do anything!" – Alberto
6. "Sure, there's no sunlight, but there's nothing to see anyway, or do. It's just you and your thoughts, and all the whale carcass you can eat!" -Uncle Ugo
7. "Look me in the eye. You know I love you right?" – Daniela
8. "Every day we'll ride someplace new. And every night we'll sleep under the fish. No one to tell us what to do, just you and me out there. Free!" -Alberto
9. "We underdogs have to look out for each other, right?" – Giulia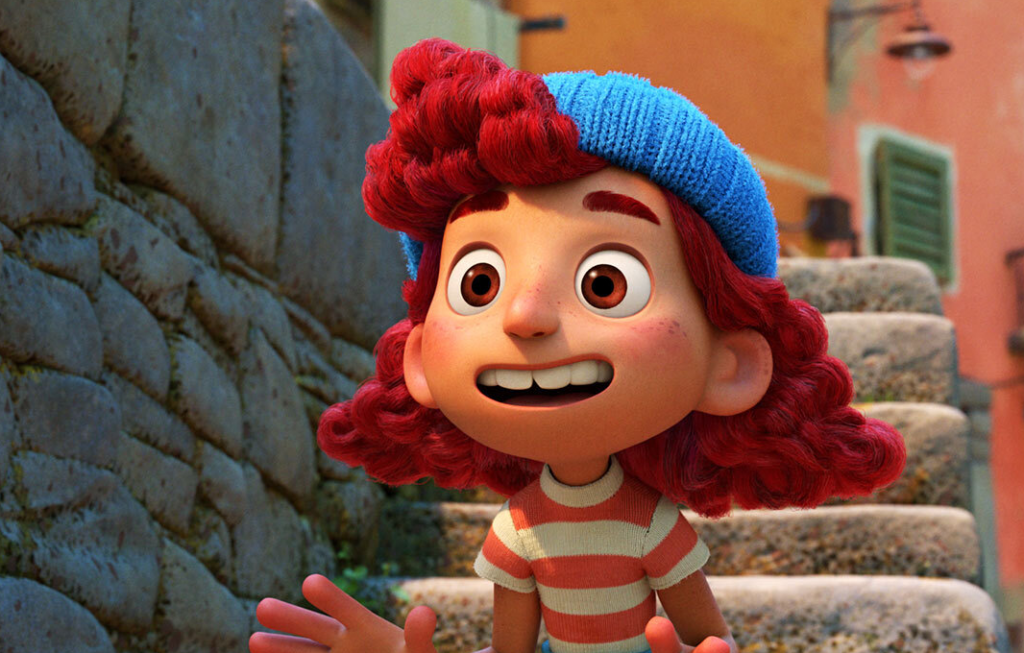 10. "All you gotta do is follow my lead, remember?"- Alberto
11. "Underdogs, you know, kids who are different, dress weird or are a little sweatier than average." – Guilia
12. "This will be a breeze – just don't get wet." – Alberto
13. "You guys want it just as bad as I do, you've got the hunger." – Giulia
14. "You scared the scales off of me!" – Daniela
15. "Ah! The sky's been leaking!" – Alberto
16. "It turns out I don't got this." – Lorenzo
17. "We don't need school. We don't need anybody." – Alberto
18. "I'm not afraid. You're the one who gets afraid." – Alberto
Funny Pixar Luca Quotes
19. "Mom, maybe his life is a little more important than your snacks." – Daniela
20. "It's just the greatest thing that humans ever made…it's the Vespa!" – Alberto
21. "Because I've got news for you, he's probably dead. . .or out there seeing the world." – Luca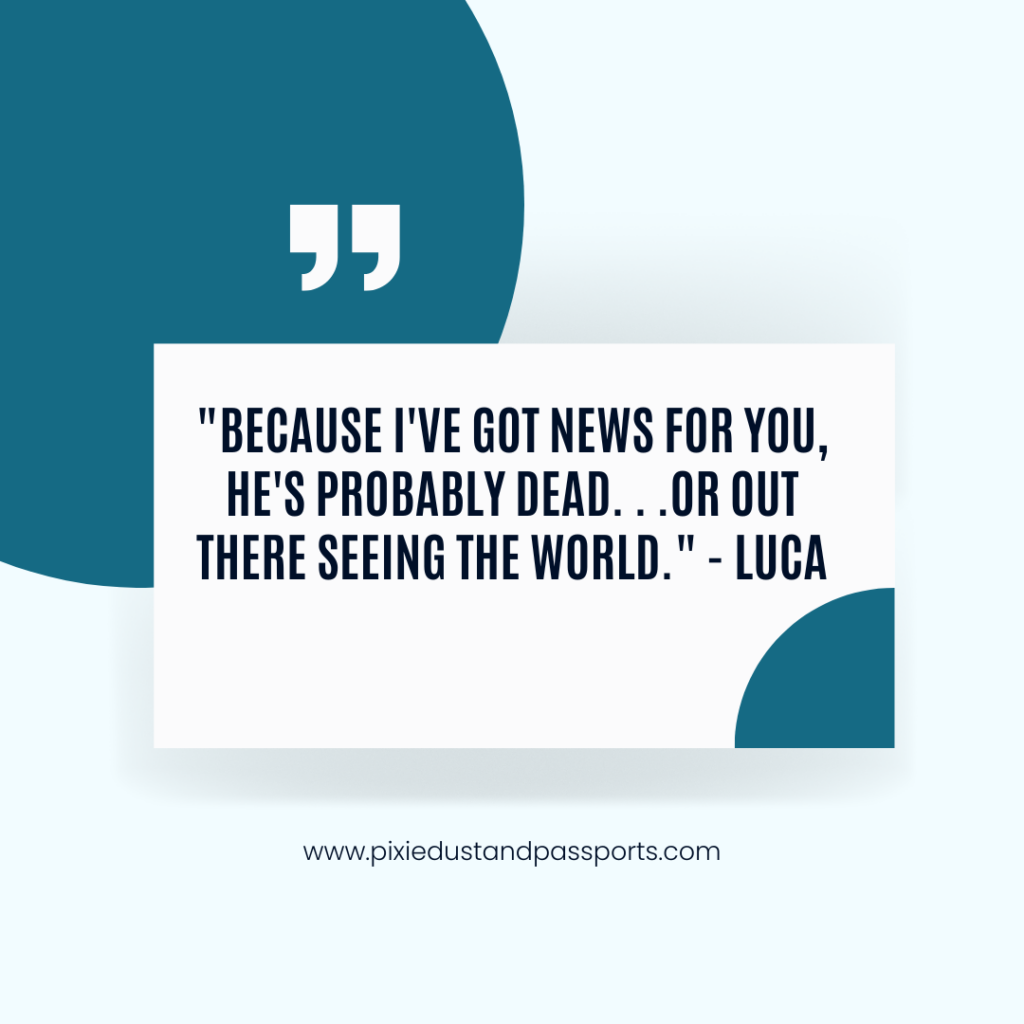 22. "Yes! We're alive! I can't believe it!" – Luca
23. "Anchovies. They go there to sleep." – Alberto
24. "Well, maybe I'm crazy! Take me GRAVITY!" – Luca
25. "He will cut through the water like a knife, an oily knife." – Ercole
26. "Rules are for rule people." -Alberto
27. "It's a human thing. I'm kind of an expert." -Alberto
28. "Thank you, Giulia, for showing us the boring thing that takes us to the terrible place." – Alberto
29. "What's wrong with you, stupido?" – Alberto
30. "Don't apologize! She can sense weakness." – Lorenzo
31. "Hey, my friend smells amazing!!" – Alberto
32. "Land monsters! Everybody under the rock!" – Luca
33. "I told you. Our son has a death wish." – Daniela
34. "How big was that dad human!?" – Alberto
Emotional Pixar Luca Quotes
35. "The world is a very dangerous place, Luca. And if I have to send you to the bottom of the ocean to keep you safe, so be it." – Daniela
36. "I know who they are. They are Luca and Alberto, and they are the winners!" – Massimo Marcovaldo
37. "Some people, they'll never accept him, but some will and he seems to know how to find the good ones." – Grandma Paguro
38. "Was I too hard on him?" – Daniela
39. "You were just trying to keep him safe." – Lorenzo
40. "You're never without me. The next time that you jump off a cliff or tell Bruno to quit bothering you, that's me." – Alberto
41. "Just remember we are always here for you." – Daniela
42. "I am so proud of you and I am so mad at you." – Daniela
43. "I never go anywhere – I just dream about it." – Luca
44. "Some people will never accept him, but some will. And he seems to know how to find the good ones." – Grandma Paguro
Quotes from Luca in Italian
45. "Per mille sardine!" – Ercolé
46. "Buongiorno!" – Luca
47. "Wait your turn, piccoletto!" – Ercolé
48. "Santa ricotta!" – Giulia
49. "Oh, mamma mia!" – Ercolé
50. "Santo pecorino!" – Giulia
51. "Mannaggia!" – Policewoman
52. "La mia bambina!" – Ercolé
53. "…he smells like behind the pescheria." – Ercolé
54. "Andiamo!" – Alberto
55. "Benissimo!" – Giulia
Fun Facts About Luca
Luca is set on the Italian Riviera, which explains the accents and language you notice throughout the movie!
Alberto is named after the director's best friend who he met when he was 11 years old in Genoa.
The film has an impressive cast, including stars like Maya Randolph, Jim Gaffigan, Jacob Tremblay, and John Ratzenberger.
Luca is said to be a sea monster with exactly 3,436 scales on his body.
Jack Dylan Grazier who voiced Alberto is said to have recorded all his dialogue inside his mom's closet because of the pandemic!
The filmmakers tried to keep things as authentic as possible by getting local Italian children to voice the extra kids you see dotted around the movie.
You might spot a Pizza Planet truck parked on the street if you keep a close eye out.
The sea monsters were inspired by medieval versions of sea monsters found in Renaissance artwork.
The movement of the sea monsters is inspired by iguanas!
There you have it – my list of amazing Pixar Luca quotes that'll inspire you to watch the movie again and again! Which quote is your favorite? I'd love to hear about it in the comments below.
Are you looking for more amazing Disney quotes to lift your spirits? If so, check out these related posts!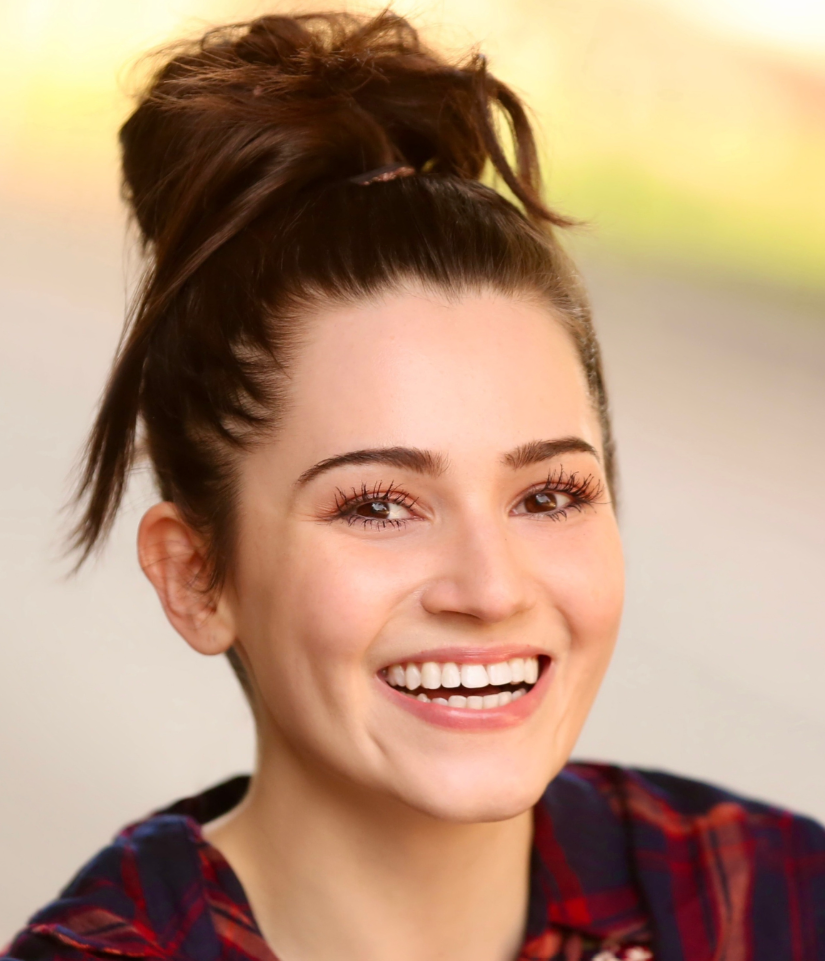 Grace is the creator, editor, and sole writer for Pixie Dust and Passports – a blog that's ALL about Disney! She's made it her life's mission to visit the Disney parks as much as possible and loves trying new snacks, grabbing the latest spirit jerseys, and rocking Loungefly bags. Oh, and she also holds a BA in History from UCL, which makes her a research and deep-dive enthusiast into all things Imagineering.