If you've been looking for all the information out there about Disneyland macarons, then you've come to the right place. This lowdown on one of the best sweet treats at Disney includes everything you need to know!
Oh man, is there anything better than the moreish chewy texture of macarons?
I certainly don't think so!
If you're planning to visit California anytime soon, then you might want to pick up some Disneyland macarons.
Hey, it gets you some Disney magic AND helps you avoid heading to the overcrowded Ladurée in LA!
Whether you're after the classic Raspberry Rose Macaron or the Snickers Macaron, this list will tell you exactly where to get them.
Plus, I'll even dive into a few frequently asked questions that'll keep you in the know on Disney's sweet treats.
Now let's do this thing!
What Are Disneyland Macarons?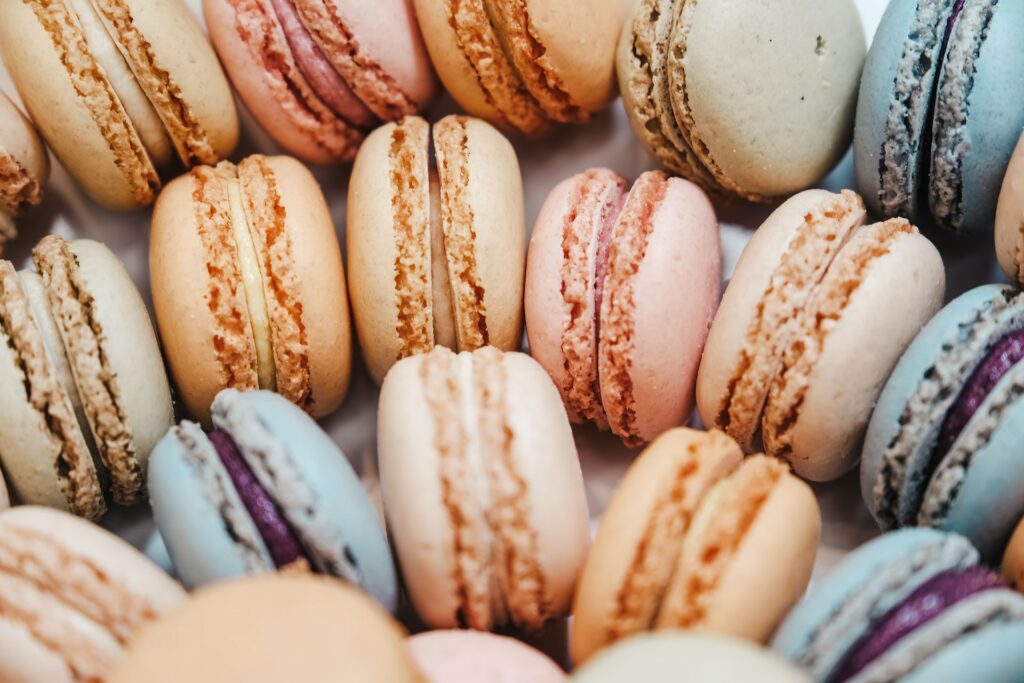 Before we dive into what Disneyland macarons are, it's probably best that I mention what normal macarons are.
These popular cookies are usually made with egg whites, sugar, and almond meal, giving them a slightly nutty flavor.
Oh, and don't forget the doses of food coloring that give macarons their vibrant appearance!
People usually say that macarons have a meringue-like texture that comes from the egg whites.
I love how smooth the shells are, but the chewy mouthfeel and bright colors are also part of the appeal!
The most famous Disneyland macarons are the raspberry rose buttercream ones with a gorgeous mouse filling.
But you'll also find Mickey macarons and special shaped ones around the holidays and special occasions.
So, make sure you keep an eye out!
You can technically try and recreate a macaron recipe at home, but they take quite a bit of skill to recreate.
And that's because they're one of the more delicate desserts to make as they need to be cooked just right (not under or over!).
Plus, they need to cool properly before filling or you'll have a goopy mess on your hands.
Are Macarons and Macaroons the Same Thing?
I used to think that macarons and macaroons were the same things with different spellings.
But boy was I wrong.
Macarons are usually less dense and slightly less chewy than macaroons.
They're also made with slightly different ingredients as macaroons are made with shredded coconut (and look more cookie-like!).
Macarons are the "prettier" version of the cookie as they're bright, perfectly formed, and smooth!
7 Places to Grab Disneyland Macarons
Now that we've covered the beauty and background of macarons, let's find out where to find them at Disneyland!
There are a few places to grab Disneyland macarons, and I'll be covering major hotspots and lesser-known gems.
Now let's get to it!
Kayla's Cake Downtown Disney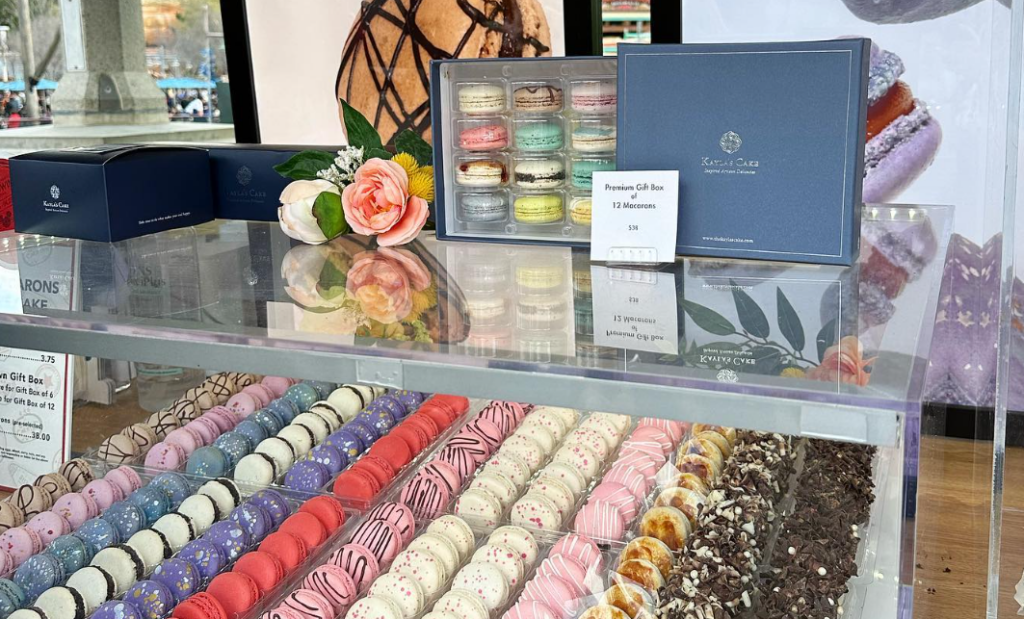 If you're craving Disneyland macarons but don't actually have park tickets, Kayla's Cake is a great place to check out.
It's tucked just outside the parks in Downtown Disney and sells surprisingly affordable macarons.
At the moment, classic French macarons are $3, while ones dipped in chocolate will set you back $4.10.
To be honest though, they're some of the cheapest macarons in Disneyland.
Kayla's is open between 10 am and 8pm from Monday to Thursday and 10 am and 9 pm on Friday through Sunday.
So, you'll have plenty of time to get your Disneyland macarons!
If you're not sure where to find this place, you'll find it near World of Disney and the Starbucks Store.
It's actually quite hard to miss!
Oh, and did I mention that you can get customized boxes in packs of 6 or 12 and there's a military discount?
Score!
Espresso Milk Tea
Unicorn (adorable and topped with sprinkles and edible blush and eyelashes – nuts!).
Jolly Holiday Bakery Café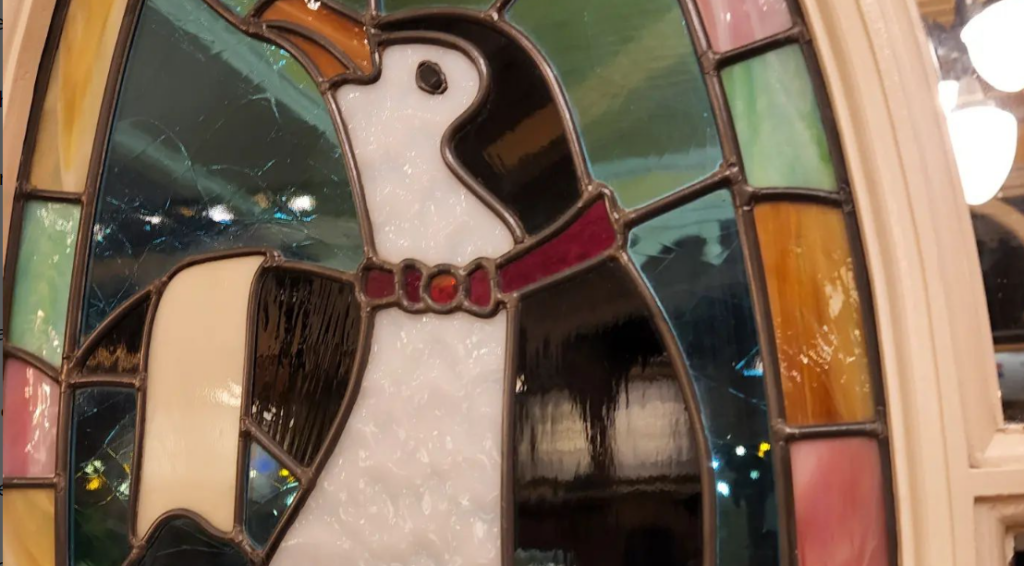 If you're on the hunt for absolute best Disneyland macarons around, you should head to Jolly Holiday.
Not only is this a grand place to grab coffee at Disneyland, but it's the home of the world-famous Raspberry Rose Mickey Macaron!
And realistically, everything tastes better when it's Mickey-shaped.
Along with the Raspberry Rose macaron, you'll find a delicious S'mores Macaron and the Matterhorn Macaron.
The Raspberry Rose macaron is a beauty and is bright red with piped rosewater filling and brushed golf leaf.
Yep, it's schmancy.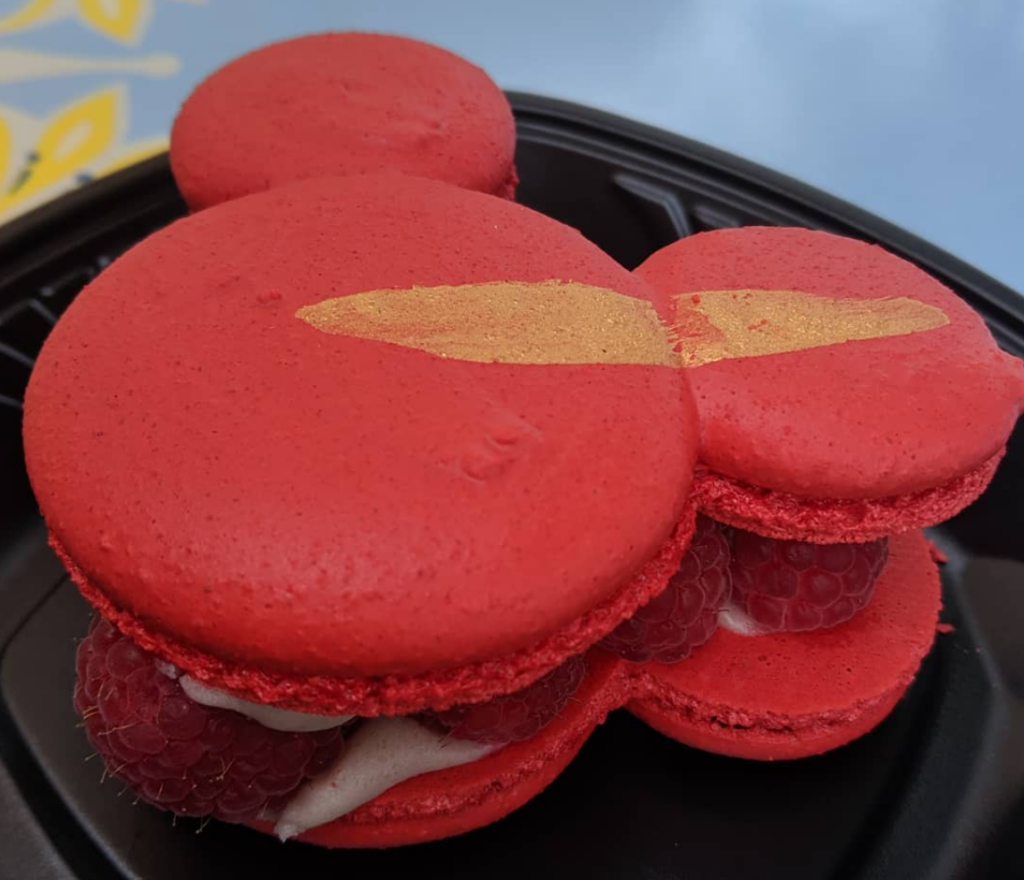 The Matterhorn is more of a giant coconut cookie than a macaron, but it's super moist and is topped with melted white chocolate.
Oh, and powdered sugar to represent snow (OBVS).
If you want to add more to your order, I suggest picking up a fresh-baked cinnamon roll and one of their mochas.
While you're in here, you should also take a walk around to explore the Mary Poppins-themed décor.
Trust me, it's worth it!
Raspberry Rose
Matterhorn
Alien Pizza Planet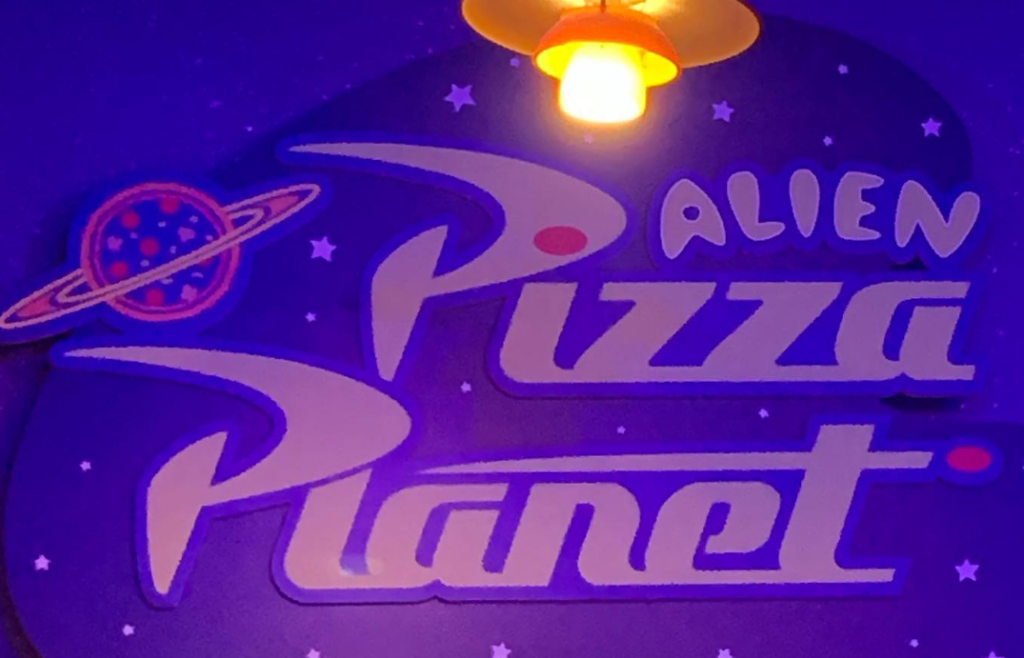 Alien Pizza Planet sells some of the coolest macarons in Disneyland as they're literally shaped like the Toy Story aliens.
And I'm here for it.
This dessert is sometimes jazzed up for the holidays with a peppermint stick and a Santa hat (or made into a vampire!).
But usually, it's just got 3 googly eyes, a smile, and an antenna that you'd see on the Toy Story aliens!
It's one of the biggest Disneyland macarons you can buy (although it's not always available) and is decorated with white chocolate.
Oh, and don't miss the funky purple filling that's made from blackberry.
And, AND, this macaron has a lemon custard center that's just slightly tangy to offset all the sweetness.
Because it's such a large macaron, you can easily buy one and split it.
The alien-shaped one, of course!
Marceline's Confectionery
I'll usually go to Marceline's for a Rice Krispie treat or a cookie, but you can also grab Disneyland macarons here!
They tend to offer classic Mickey macarons, but you'll also find seasonal offerings during Halloween and Christmas.
Plus, the treats here are usually a touch more upscale (and expensive!).
So, you can expect flavors like chocolate, lemon, pistachio, and dark chocolate to make an appearance.
They're not all Mickey-shaped though!
Any of the seasonal picks or flavored macarons.
Food and Wine Festival
I can't guarantee that there will always be macarons at the Food and Wine Festival at California Adventure.
But there OFTEN ARE (YAY!).
There have been tons of variations on macarons over the years, but the ridiculous Snickers Macaron from Nuts About Cheese changed my life.
It's filled with Caramel Ganache and was stuffed with Snickers Bar pieces.
And honestly, that's my JAM.
If there are macarons at the Food and Wine Festival, there tend to be standalone or single ones.
You won't get too much of a choice, but I feel that makes it easier to sift through the dessert offerings.
Candy Palace
The Candy Palace is tucked away on Main Street and it sells everything from fudge lollipops to delicious chocolate.
Oh, and macarons of course!
There's a large selection of macarons inside the Candy Palace alongside the caramel apples.
You'll find relatively classic flavors in here, but I'd say that there are better spots for grabbing macarons in the park.
Trolley Treats
If you're inside California Adventure, you can head to Trolley Treats for macarons.
It's on Buena Vista Street and offers glorious treats like toffee and fudge, caramel apples, and even chocolates and sweets.
Like Candy Palace, the choice here isn't as great as you'll find elsewhere as the focus is on Rice Krispie Treats and apples.
But occasionally, they stock glorious macarons in the glass cabinet at the front of the store!
Any of the classic flavors or Mickey-shaped macarons.
How Much Do Disneyland Macarons Cost?
Okay, so the price of Disneyland macarons varies depending on which one you're buying and where you're going.
The prices at Kayla's Cakes are relatively affordable at $3 a macaron, while the alien macarons are $5.99.
The priciest macarons at Disneyland are the raspberry rose ones at Jolly Holiday Bakery at $6.49 (ouch!).
If you want something slightly more affordable at Jolly Holiday, try the Matterhorn Macaron at $3.99.
Where Can You Find Raspberry Macarons at Disneyland?
You'll find raspberry macarons at Jolly Holiday Bakery which is easily spotted on Main Street.
What is in the raspberry macaron at Disneyland?
The raspberry macarons at Disneyland contain a creamy mouse filling that's lightly flavored with raspberry and rosewater.
They're also topped with a fabulous gold leaf line that adds a touch of glamor to these treats!
How much is a raspberry macaron at Disneyland?
A Raspberry Rose Macaron costs $6.49 at Jolly Holiday Bakery which is PRICEY for a single cookie.
But honestly, the artistry behind these bad boys is worth every cent.
FAQs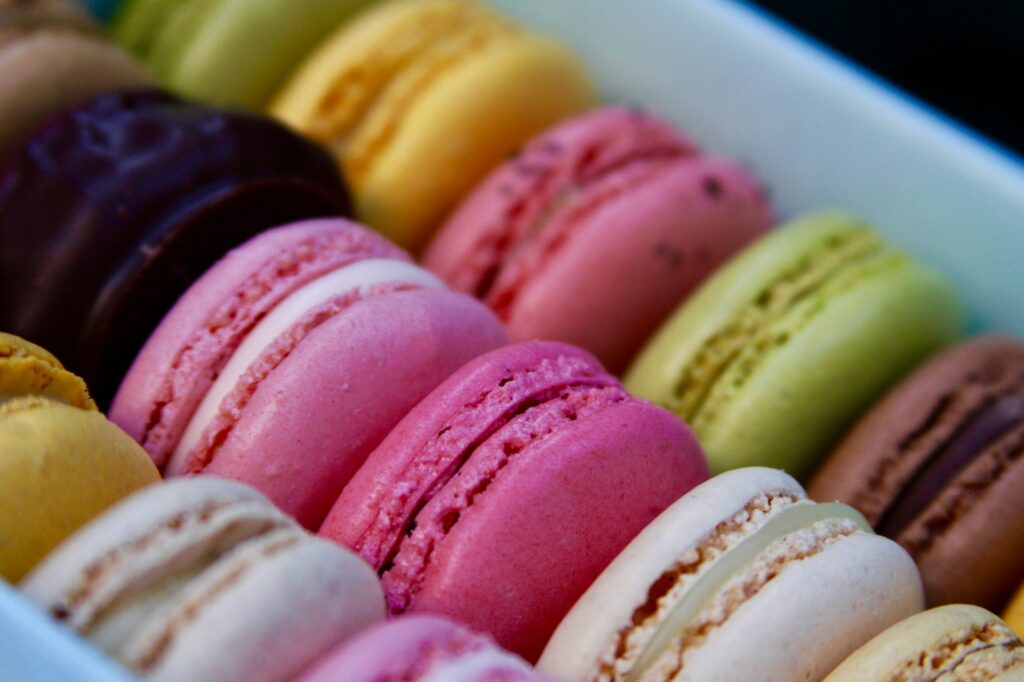 What is the most expensive food item at Disneyland?
If money is truly no object, you'll want to head to the Avengers Campus to buy the super-expensive Pym-ini Sandwich.
Believe it or not, this delicious dish at Pym Test Kitchen costs a ridiculous $100 (well, $99.99).
But honestly, it might just be worth it.
It's made with salami, rosemary ham, and cheese, but it's also got rosemary ham and shaved truffles inside it!
I'll say that it IS a family-size sandwich that you can get as an individual portion for $14.99.
But it's technically the most expensive food item at Disneyland!
Can I order Disney macarons online?
You can get macarons from Kayla's Cakes delivered to any part of the USA.
Sadly, you can't get actual PARK macarons sent to your home. You'll have to purchase a ticket for those!
Does Disney World have raspberry macarons?
It sure does!
Okay, so you you won't find the exact Raspberry Rose macarons at Disney World.
But they do have a Raspberry Ice Cream Macaron Sandwich that's slightly sweeter than the one at Disneyland.
In case you're wondering, you can grab these macarons at the France Pavilion in EPCOT!
Do you tip in Disneyland restaurants?
You won't typically need to tip for your macarons as they're usually available at quick-service spots.
If you're visiting a sit-down spot or character dining experience, you'll be expected to leave a tip for the server.
This is kind of an expectation at most places around the US in general.
Although you might not agree with it if you're not a local, it's an important part of your server's wages!
There you have it: the ultimate guide to Disneyland macarons that will have you snacking in no time!
Have you ever tried the Disneyland macarons? Which one is your favorite? I'd love to hear your thoughts in the comments below!
Related Posts: