Have you found yourself wondering whether there's a Disney World jail for misbehavior at the parks? Read ahead for everything you need to know about Disney World jail (and how to avoid it!).
It probably comes as no surprise, but Walt Disney World is one of the most popular tourist attractions on the planet.
And with over 12.7 million visitors passing through the gates every single year, there are always going to be a few bad apples thrown in.
If you're wondering where troublemakers are taken, then you'll want to keep reading.
In this comprehensive article, I'll answer every question you could have about the infamous Disney World jail and let you know what could get you banned from the parks for life.
Because there would be nothing worse than losing access to the House of Mouse, right?
Now let's dive right in.
Does Disney World Have a Jail?
Okay, so it doesn't have an official jail that'll result in a criminal record.
But there is a makeshift Disney World jail that is designed to hold misbehaving guests until they can be investigated or removed from the parks.
It's essentially a security room on-property that is manned by Disney's security team.
Depending on what you've done to earn a trip to Disney World jail, the guards will either inform local authorities or dig deeper to discover what you've done wrong.
I'll dive right into reasons you can be put in Disney World jail!
As you might expect, these holding rooms are kept completely away from the view of other guests.
Because really, nothing dampens the thought of The Happiest Place on Earth like a secret jail room full of rascals!
And you may not have spotted them on your trips to Disney World, but there is usually a couple of police offers patrolling the parks at any time.
They're purposely kept under wraps – but they're there to keep guests safe!
Have Any Celebrities Ever Been to Disney World Jail?
The parks take the concept of Disney World jail so seriously, that even stars like Robert Downey Jr. and Blake Lively have been held here over the years.
Don't worry Blake fans – it's when she was a kid!
If you're looking to hear more about the experience in Blake's own words, here it is!
"I grew up going to Disneyland like twice a week…my mom would take me out of school and take me to Disneyland. But I was banned from Disneyland for a year because I went to Disney prison."
She didn't explain precisely what happened, but you might be able to make a few educated guesses as there are certain things that can get you thrown in "jail".
What Can Disney World Ban You For?
Now that I've answered the question "does Disney World have a jail?", you might also be wondering what can get you in trouble at the parks.
To help you out, I've rounded up a list of everything that can get you thrown into Disney World jail.
So, I'd avoid doing any of these things if you don't want to have your annual pass revoked, removed from the parks, or banned for life!
Underage drinking or excessive drinking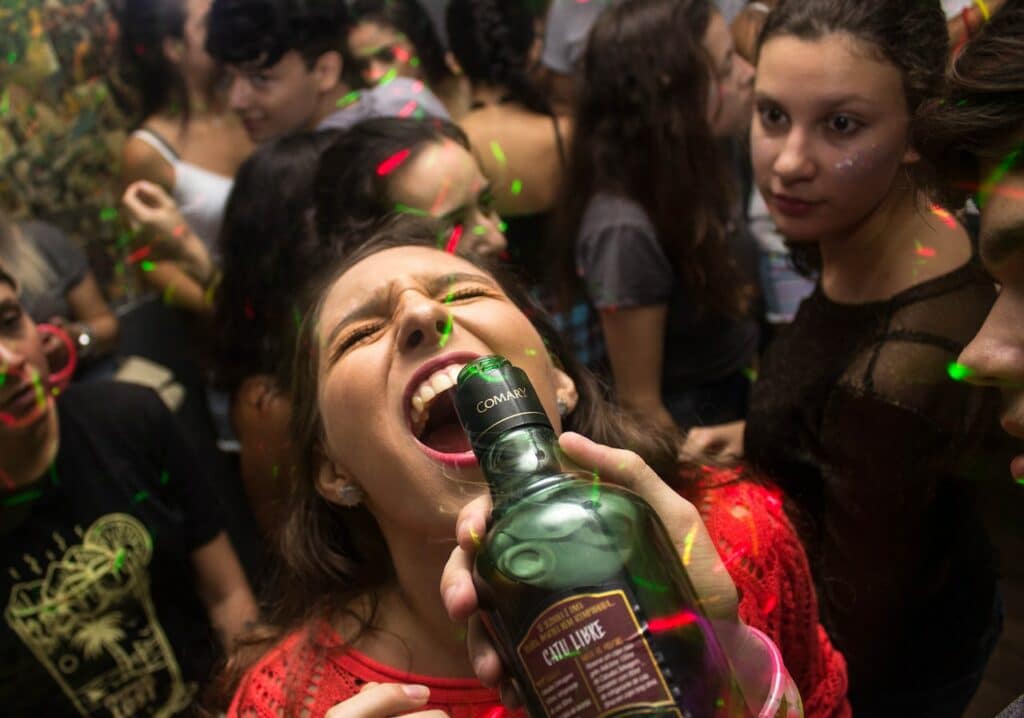 Although the design of the parks means that it's tricky to get beer in Magic Kingdom or tons of alcohol around the parks, people still overdo it.
This used to be an enormous problem when Pleasure Island was in full swing years ago, but you'll typically find drunk people around Epcot these days.
And it's entirely down to the Drinking Around the World concept.
Underage drinking isn't a huge issue at the parks as Cast Members are very strict about checking Ids and making sure everyone's 21 and over.
But if you decide to share your drinks with underage members of your party (or someone slips through the net!), they could land in Disney World jail.
The same goes for overindulging.
If you're obviously drunk and are causing a nuisance to other guests, you'll be swiftly thrown in Disney World jail (and probably removed from the parks!).
Shoplifting
Another obvious thing that might land you in Disney World jail is shoplifting.
Not only will this land you in trouble at the parks, but this is something that will also get you in trouble with the law.
I totally get that grabbing a coveted item from the merchandise stalls can tempt even the strongest-willed visitor.
But there's never an excuse for shoplifting, and no Loungefly bag or Spirit Jersey is6 worth the risk (or resale value!).
And hey – there are cameras everywhere, so it's simply not worth the risk.
Inappropriate behavior
If you're trying to avoid Disney World jail, then you'll want to refrain from getting into fights or engaging in any lewd behavior.
Yup – we're talking to you honeymooners!
The most common thing that lands people in Disney World jail are scuffles like elbowing, punching, kicking, or intense arguments with other guests.
But there have also been times when guests have assaulted Cast Members which is seriously not okay.
It goes without saying, but always try to resolve any disputes with the help of a Cast Member and never get physical!
Misuse of tickets or using fake tickets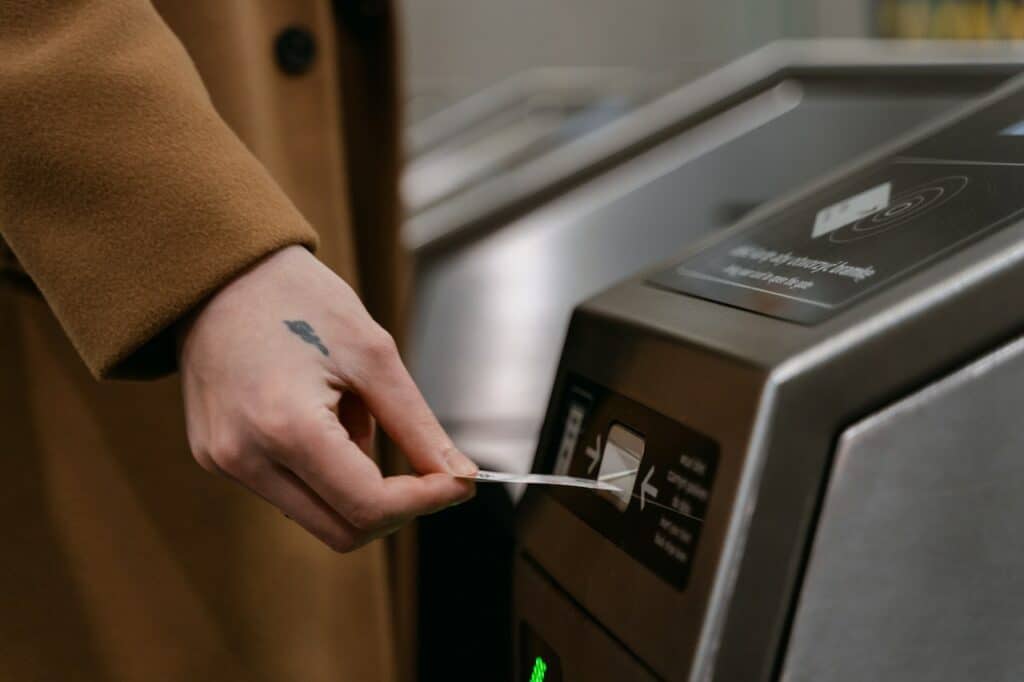 You'd be surprised at how many people end up in Disney World jail because of fake tickets, trying to skip the turnstiles, or using the wrong passes.
This is most commonly seen when Florida residents lend their tickets to friends and family members.
But it might surprise you to find out that Florida residents will often try to sell fake tickets or "lease" their annual passes to make a quick buck!
Not only can this get your passes confiscated, but it might cause you to get banned for life (which would be a huge shame!).
Even if you're not trying to do anything wrong, mistakenly using fake tickets can also land you in Disney World jail.
So, if an online deal seems too good to be true – it probably is!
Oh, and if you try to get in without a ticket at all? Straight to Disney World jail!
Impersonating a character
This is a less common reason to get sent to Disney World jail, but you'll be removed from the parks extremely quickly if you're cosplaying.
Disney is particularly protective over their princesses, and they want to make sure that its guests are only interacting with legitimate and safe Cast Members.
There's absolutely nothing wrong with amazing Disney bounding outfits.
But if you don an expensive wig or a replica princess dress, and start interacting with the guests, you're going to be removed (and possibly banned) quickly!
Selling your own commercial merchandise
It's unsurprising that Disney World makes a lot of money each and every day.
So, if they catch you soliciting your own products or selling kitsch shirts or badges from your Etsy store, that's a huge no-no.
As they're extremely protective over the IP and brand image, your attempt to sell anything on-site is going to get you sent to Disney World jail.
Trespassing and climbing on any theme park buildings
This is another obvious thing that'll get you a one-way ticket to Disney World jail.
You got it – it's trespassing on forbidden property and climbing on top of theme park buildings or pavilions.
This obviously isn't common as most people know that this isn't something you should do at the parks.
All forbidden areas are usually marked for Cast Members Only, and the pavilions at Epcot are designed to keep people off.
But that didn't stop a man from heading up the stairs at the Mexican pavilion back in 2015!
Sadly, this action got him banned for life and sent right to Disney World jail.
So you won't want to follow his lead unless you want to say goodbye to the House of Mouse forever.
It's also worth noting that this point also covers getting up in rides and leaving rides when you're not supposed to (think trying to leave your boat in Pirates!).
This is entirely for your own safety and for the safety of others guests.
Just don't do it, folks!
Bringing contraband into the parks (or any other illegal items!)
The final thing that'll get you sent to Disney World jail is bringing literally anything prohibited into the parks.
This doesn't mean bringing picnic food or your own water bottle for Disney World. I'm talking about contraband, illegal substances, and alcohol from outside the parks.
Disney World has a detailed list of park rules that you should consult before any visit. And luckily for you, it includes a list of prohibited items you won't be allowed to take in!
They state that everyone will be subject to a security screening before heading in and that marijuana and illegal substances are not permitted anywhere or at any time.
You can technically bring vapes and tobacco to the parks, but you'll only be able to smoke in designated outdoor areas.
If you're vaping out in the open, expect to get a stern warning or an all-expenses-paid trip to Disney World jail.
As you'd expect, firearms, ammunition, knives, sharp objects, and weapons are all forbidden.
If you want to keep them, you just shouldn't bring them along as they'll always get confiscated at the gate and you may be refused entry too.
Does Getting Sent to Disney Jail Mean You'll Be Arrested?
Not necessarily.
But it's worth knowing that a trip to Disney World jail can result in actual jail time if you've committed a crime or caused danger to those around you.
For example, if you've brought a weapon onsite or have shoplifted, you're going to be dealing with the cops.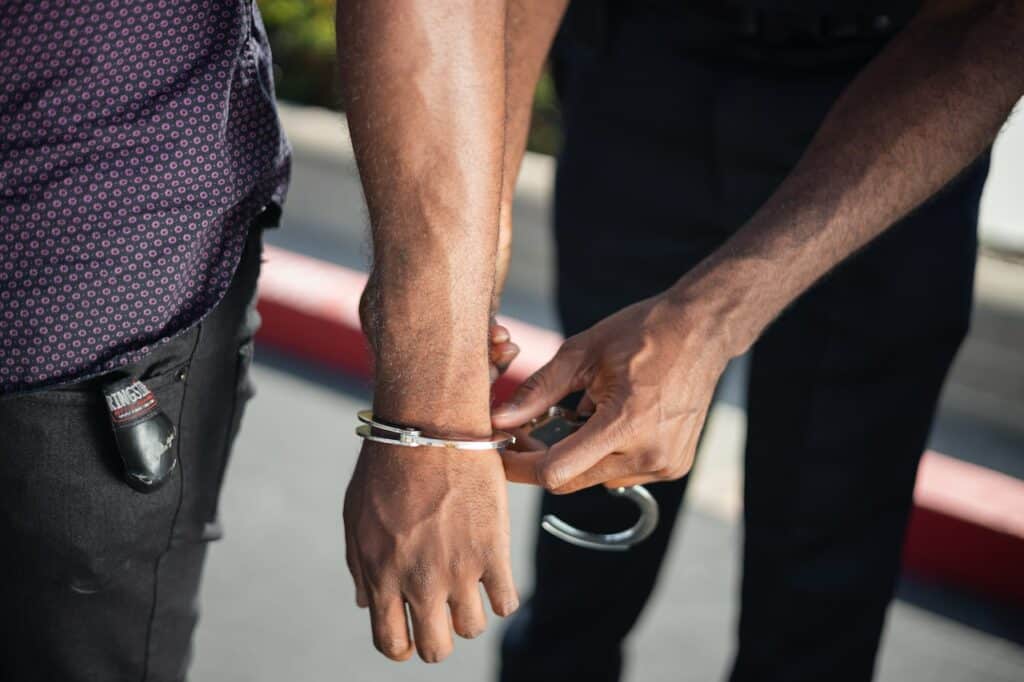 Can You Get Banned from Disney World?
You sure can.
If a guest breaks any kind of rule, they'll probably be escorted from the parks for the day.
This doesn't mean that they'll get a lifetime ban.
But if you're engaging in serious or illegal rule-breaking, then Disney World may ban you for a set period of time (like a year) or even for life.
Is Walt Disney World a Safe Place to Visit?
Of course, it is!
As well as being The Happiest Places on Earth, Disney parks are also some of the safest places to visit.
Not only is security seriously tight at all of the parks around the world, but most guests simply want to have a good time.
So, people starting fights or bringing anything illegal into the parks is ridiculously rare.
There you have it: the ultimate guide to Disney World jail that'll satisfy your curiosity and keep you enjoying the parks!
Have you ever been to Disney World jail? Or perhaps the security rooms at Disneyland? If you've had a run-in with security or have seen anyone get escorted to jail at the parks, I'd love to hear your stories in the comments below!
Related Posts: