Have you been looking for the best Disney BoardWalk restaurants to check out this year? Read ahead for my top recommendations that you're bound to love!
The Disney BoardWalk might not be somewhere you're familiar with, but this amazing location is well worth checking out.
From its entertainment options to its incredible promenade, there's a reason this spot is so popular.
But have you been searching for Disney BoardWalk restaurants where you can grab a light bite or a full meal?
Whether you're craving a spot of Italian food or a grab-and-go delight, this list of Disney BoardWalk restaurants has got you covered.
Now let's dive right in!
What is the Disney BoardWalk?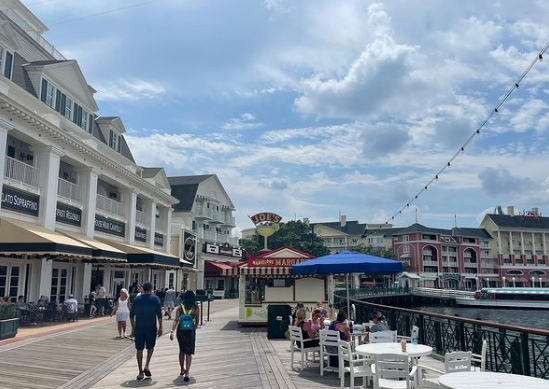 The Disney BoardWalk is a promenade along Bay Lake at the Walt Disney World Resort in Florida.
It opened back in 1996, and you'll find it around the Epcot Resort Area between Epcot and Hollywood Studios.
It stretches for a quarter-mile and covers an impressive 90,000 square feet.
So, it's probably unsurprising that there's tons to do over here (and there are several Disney Boardwalk restaurants to enjoy!).
How Many Disney BoardWalk Restaurants Are There?
There are currently 15 Disney BoardWalk restaurants available if you count the Cake Bake Shop which is opening in 2023.
This covers everything from quaint coffee shops to full-on grill restaurants and ice cream parlors.
Although there used to be an incredibly popular sports bar here called ESPN Club, it's now closed (unfortunately!).
Is Disney BoardWalk Worth it?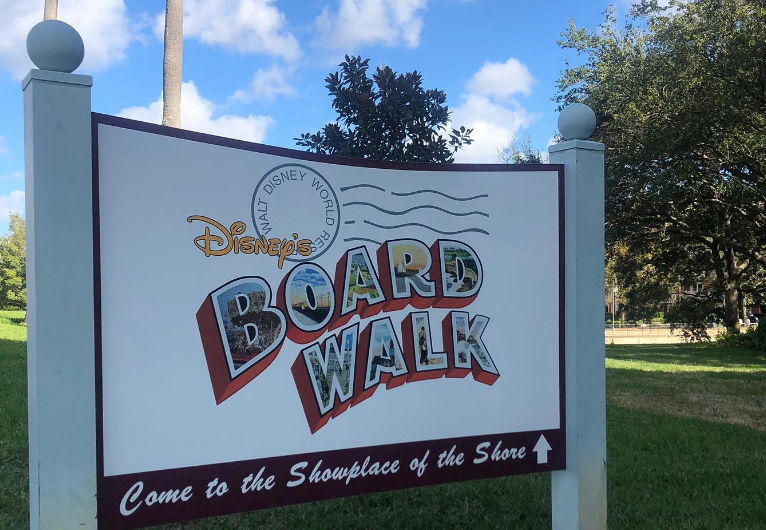 If you're wondering whether the Disney BoardWalk is worth visiting, I'd say YES.
But only if you have time in your schedule.
If I'm going to Disney World for a couple of weeks, it's lovely to spend a few hours walking around with ice cream or grabbing a meal.
You'll also be able to enjoy the 1920s theming, the Epcot Resort Area, and the various entertainment spots on the BoardWalk.
I'd also say it's a wonderful way to escape the hustle and bustle of the parks without heading outside the parks to International Drive.
If you've only got a few days to visit Walt Disney World, I'd say you can probably miss the BoardWalk unless you have a restaurant reservation.
Although it's budget-friendly and fun, the parks should be your main focus on a tight trip!
Is the Disney BoardWalk Free?
Yes, the Disney BoardWalk is free and there's no entry gate that charges a fee.
You don't even need to be visiting the Disney parks to enter – you can just waltz right in!
So, if you want a taste of Disney magic without shelling out hundreds of dollars for park visits, then the BoardWalk is ideal!
How Do You Access Disney BoardWalk?
The Disney BoardWalk is closest to Epcot and can be reached by heading to International Gateway which is on the World Showcase.
The walkway is located between United Kingdom (where you'll find Mary Poppins!) and France. It's relatively easy to find thanks to the signage!
If you're not coming over from Epcot, you can park in the Disney BoardWalk Inn & Villas parking lot.
The parking is relatively limited here, but you'll still be able to snag a space if you're not visiting during peak periods.
Alternatively, heading to the BoardWalk is easy by Friendship Boat or bus!
Just be warned that these public transportation options can be slightly slower at times (though the boats usually run every 15 minutes).
15 Disney BoardWalk Restaurants You Need to Know About
Carousel Coffee
The first place I'm going to mention on this bumper list of Disney BoardWalk restaurants is Carousel Coffee.
It's a relative newcomer as it only opened in 2023.
But it's the perfect place to stop for a quick breakfast or mid-afternoon snack while you're exploring Epcot or Hollywood Studios.
It's typically open between 7 am and 4 pm each day, but there isn't any seating so it's more of a grab-and-go spot.
Of offer, you'll find special bakes like crumb cakes (a must-order!), cookies, and tarts.
The sugar cookies are a popular item that have Mickey and Minnie's faces slapped on in royal icing. But I'm a sucker for their croissants and muffins as they usually keep me full for hours.
If you're feeling the Florida heat, then you'll want to grab one of their signature frozen blended coffees.
They're slightly cheaper than Starbucks, and it stops you from having to queue at the busier coffee shops in the parks.
I'd say that the décor leaves something to be desired as it's on the plain side. But otherwise, it's a good place for a quick snack!
AbracadaBar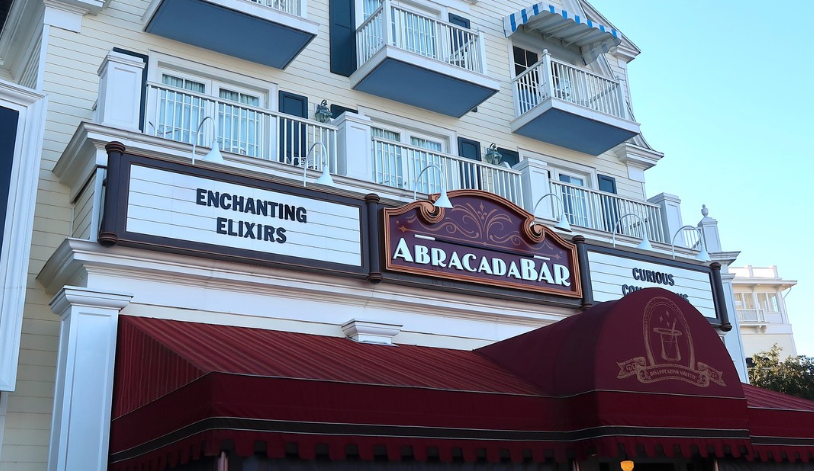 The next spot on my list of the best Disney BoardWalk restaurants in AbracadaBar!
As you might have guessed from its name, this spot is a bar that boasts a musician theme, great cocktails, and a few light snacks.
I wouldn't come here expecting a full-on meal, but you can pick up flatbread pizzas, cheese plates, or fries for a quick bite.
What makes this one of the best Disney BoardWalk restaurants is the cocktail list.
You can pick up spicy drinks like the Pepper's Ghost with pineapple vodka and habanero lime (which has a kick!).
Otherwise, you're bound to love their crazy color-changing margarita if you're looking for more magic in your day.
Whatever you order, I suggest spending a few minutes walking around and taking in the small details.
From the kitsch signs to the darker mood lighting, it's a wonderful place to stop for a breather.
The To-Go Cart
True to its name, the To-Go Cart is THE place to visit for a quick snack that you can grab and take with you.
I'd say that the food you'll get here is classic theme park grub which includes hot dogs, chicken dippers, and burgers.
It's a great option for a quick bite, but I'd honestly get this kind of food in the parks instead!
BoardWalk Joe's Marvelous Margaritas
If you're not feeling AbracadaBar, then you might want to stop by BoardWalk Joe's Marvelous Margaritas for a drink.
It's best known for its frozen drinks like margaritas and piña coladas, but you can also pick up a selection of snacks.
Although there isn't much on offer on the food side, the Mickey pretzels and nachos are always a good shout.
And if you fancy something non-alcoholic, you can grab a DOLE Whip® Smoothie!
As this place is open between 12 pm and 12 am, there's plenty of time to stop by for a quick drink (or two!).
Belle Vue Lounge
Oh man, the Belle Vue Lounge is one of my all-time favorite Disney BoardWalk restaurants as it's just beautiful.
It usually opens at 4 pm and closes at midnight.
It's on the second floor of the BoardWalk Inn and serves classic alcoholic drinks like beers, wines, and cocktails.
It used to serve up appetizers and light bites, but it now functions as a full cocktail bar that offers unique mixes.
So, I suggest heading to one of the other Disney BoardWalk restaurants for filling food before sitting here all night long.
I honestly love their non-alcoholic sips (the Pink London Spritzer is incredibly refreshing!).
But if you want a specialty cocktail, I suggest ordering the Orange Blossom Manhattan or the Belle Vue Cosmopolitan.
You can't go wrong with either one!
In terms of the décor and vibe, you should expect comfy sofas and chairs along with a 1930s-style seating area.
The whole place feels slightly elevated, so I recommend pulling on something slightly smarter than shorts and a T-shirt!
Big River Grille & Brewing Works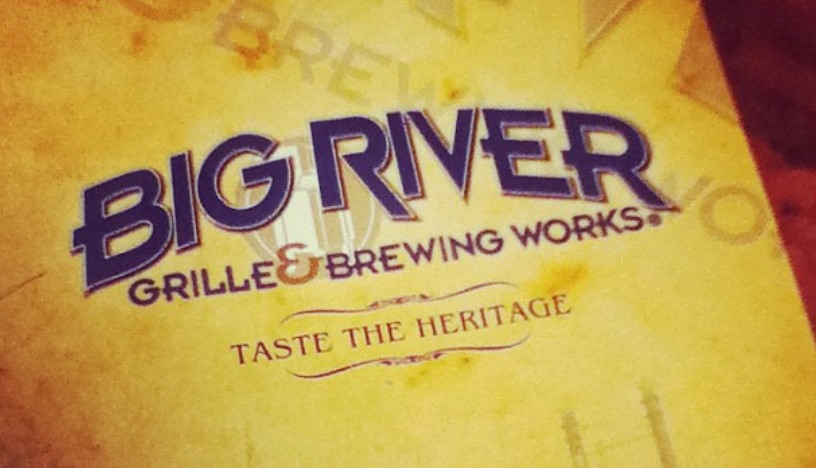 If you're on the hunt for Disney BoardWalk restaurants that will fill you up for hours, you should check out Big River Grille.
Although it's relatively popular, it's never overrun or completely packed.
It's both a full-service restaurant and a microbrewery, so you'll be able to pick up a full meal PLUS a few delicious beers!
You'll find traditional American dishes here like burgers, mac and cheese, and sandwiches. But you can also grab healthier picks like salads.
I like that it's family-friendly and casual, making it the perfect place to stop for a relaxed dinner after a tiring day in the parks.
You can either dine indoors or perch on the waterfront patio (which I LOVE!).
Plus, there's a dedicated children's menu that serves classic treats like burgers and hotdogs if you have fussy eaters.
I recommend reserving a table by calling ahead and ordering one of their iconic Sweet Magnolia Brown Ales before leaving!
BoardWalk Deli
The BoardWalk Deli is the new kid on the block, and it replaced the old BoardWalk Bakery that was always a favorite.
It's slightly irritating that they've removed all indoor seating, making this a strictly take-out and quick-service stop.
It's not the end of the world as it keeps lines moving. But it does give you less flexibility if you wanted to rest weary legs!
You can pick up light items like sandwiches and baked bagels between 7 am and 11 pm each day.
If you're feeling adventurous, I highly recommend grabbing a cannoli and their warm pastrami Reuben.
Just trust me on that one.
Whatever you grab, this is one of the Disney BoardWalk restaurants that's affordable, accessible, and quick!
BoardWalk Ice Cream
If you want a scoop of ice cream, then you can get it right on the BoardWalk!
As you can guess from the name, this place specializes in different scoops of ice cream, sundaes, and classic desserts.
I love the Strawberry Splash Shortcake and the signature sundaes, but virtually everything on the menu is uber-tasty.
I wouldn't suggest visiting this spot for a sit-down meal (I'd head to Beaches and Cream near the Beach Club for that).
But it's a great place for a sweet treat on those unbearably hot and humid summer days!
The Cake Bake Shop by Gwendolyn Rogers (Coming Soon!)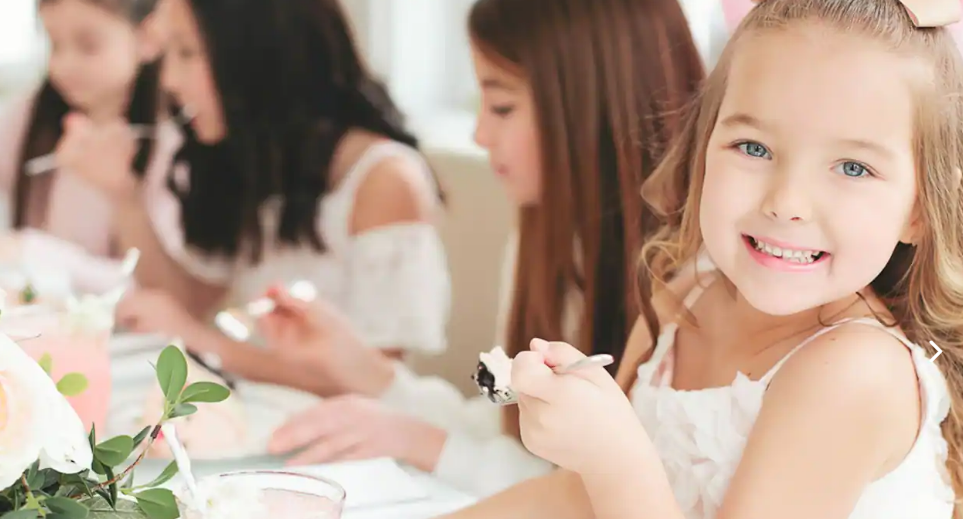 Okay, so this is one of the Disney BoardWalk restaurants that hasn't opened quite yet, but it deserves a spot on this list!
The Cake Bake Shop is coming in 2023.
It's a storybook-themed restaurant featuring antique mirrors, French doors, and gorgeous chandeliers.
So, it's certainly a bougie bakery!
Not only can you enjoy an elegant afternoon tea here (which is a good alternative to 1900 Park Fare), but there are tons of other treats.
I can't wait to try their pastries and desserts. But honestly, everything from the cocktails to the brunch dishes looks incredible.
Talk about Disney BoardWalk restaurants that do it all!
Leaping Horse Libations
When I'm craving something light when I'm hanging around the BoardWalk, I'll check out Leaping Horse Libations.
It's a carousel-themed bar that's perched by the Luna Park Pool.
It doesn't serve much food, but you'll find Mickey pretzels, salads, and pizzas to choose from here.
What they're best known for is their frozen cocktails, excellent beers, and sangria!
So, I recommend stopping here for a quick drink and a recoup before grabbing something more substantial.
Atlantic Dance Hall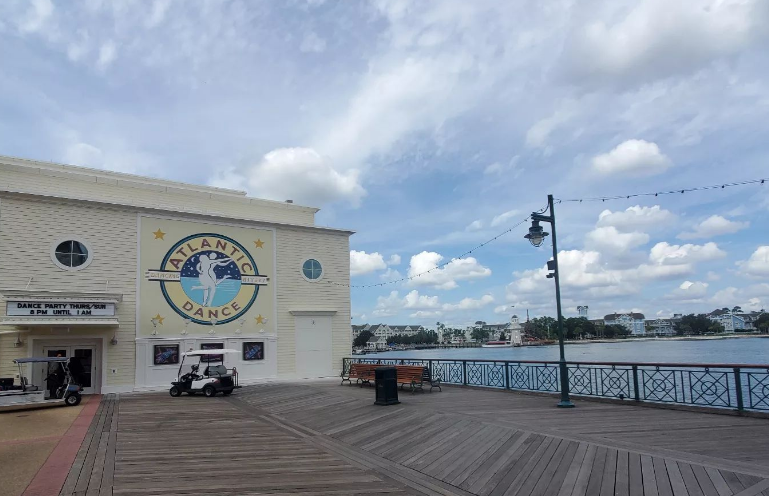 I have a huge soft spot for the Atlantic Dance Hall as it plays my all-time favorite 80s and 90s hits until 1 am.
And realistically, who doesn't want to pepper their Disney vacation with a hit of old-school cool?
I wouldn't say that it's the best place to visit for huge meals as it's more of a drink and snack spot.
But if you want to explore an Art Deco ballroom and shake your tailfeathers (and you're over 21!), this is an awesome place to visit.
Plus, there's no cover charge which means you can explore the interior without spending a penny.
Funnel Cake Cart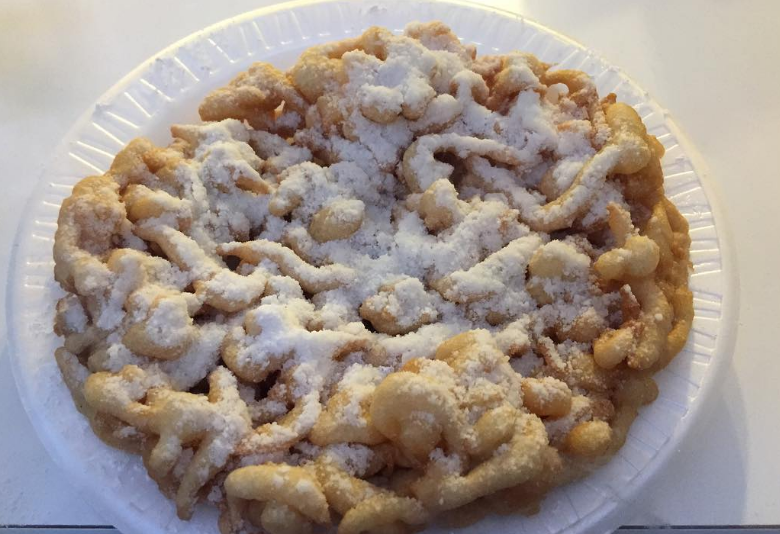 When you want sweet treats and a portion of classic Disney World Funnel Cake, then this cart will be your best friend.
If you're not sure what a funnel cake cart is, it's basically a hot cakey dessert that's sprinkled with powdered sugar.
You can add chocolate syrup if you like, but it tastes just as amazing plain!
If you want, you can add cotton candy or fried ice cream to your order.
***this cart is currently unavailable, but I'll be sure to update this post when it's back with a bang.
Flying Fish
Flying Fish is THE place I suggest visiting if you want a table-service meal that's on the expensive side.
It specializes in sustainable seafood and oak-grilled steaks, so you can expect a contemporary American menu.
Just be warned that it's only open for dinner each evening, making it a bust if you want lunch or breakfast!
The meals are relatively pricey, and you can expect to shell out between $35 and $59.99 per adult.
But the sophisticated plating, handpicked wines, and seasonal desserts make it worth trying out.
If you're not sure what savory eats to try, I highly recommend the pork belly and the Filet Mignon.
After all, there's nothing better than fine dining!
Oh, and be warned that this popular Disney BoardWalk restaurant has a smart-casual dress code.
So, don't underdress!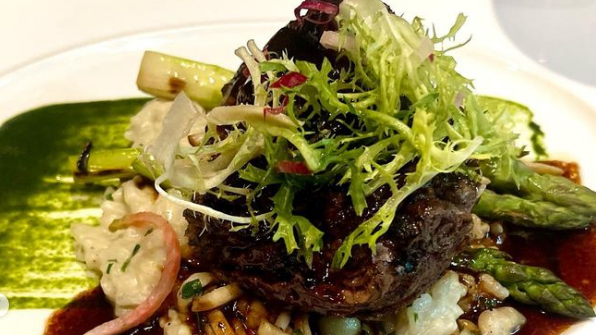 Pizza Window
When you just want a simple slice to spice up your afternoon, the Pizza Window is the place to be.
Well, KIND OF.
Although these guys used to serve pizza by the slice, they typically serve personal pizzas these days.
Yeah, it's disappointing – but not a deal-breaker in my book.
As the pizzas come in at under $10, it's a relatively cheap option if you grab personal pizzas for everyone in your party.
There are also gluten-free options which makes this a relatively allergy-friendly spot to try.
I won't say that it's groundbreaking on the flavor front, but it should fill you up if you're in a pinch.
But honestly? I'd say you'd be better off getting pizza delivery to your Disney resort!
Trattoria al Forno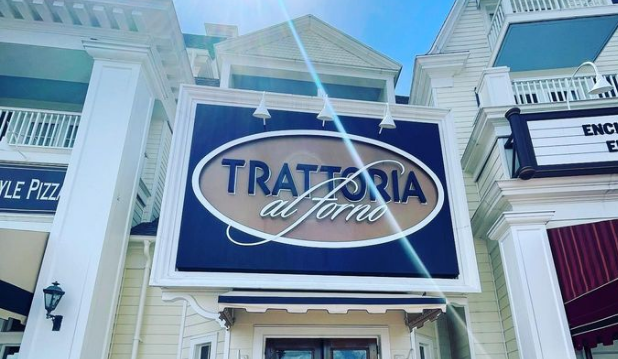 To round off this list of the best Disney BoardWalk restaurants, we have Trattoria al Forno!
This place is a classic for a reason, and it serves Italian fare for breakfast and dinner (sorry, lunchtime folks!).
You'll find a selection of traditional Italian dishes like tiramisu and pasta, but you can also grab steaks and appetizers.
There used to be character dining at this location, but it's yet to return in full force after the pandemic.
I'd say that the Crispy Pancetta Arancini is a must-try, but you can't go wrong with most items on the menu.
Just be warned that it's popular and tends to be busy. So, I suggest booking a table ahead or trying to arrive before peak breakfast and dinner times.
FAQs
What is the dress code for Disney BoardWalk?
You can just wear what you'd wear to the parks. But if you're visiting Flying Fish or the Belle Vue Lounge, I recommend dressing in jeans, dresses, skirts, or smart garb. In these locations, torn clothing or anything overly casual will be frowned upon or turned away.
Can you see the fireworks from the Disney BoardWalk?
You can't see the Magic Kingdom fireworks from the BoardWalk, but you CAN see the Epcot fireworks from here! If you want to catch them, I suggest standing on the small BoardWalk bridge that connects to the World Showcase. It can get busy, but you should be able to snag a spot 15-30 minutes before showtime!
Has Disney's BoardWalk been renovated?
Disney's BoardWalk Inn is undergoing renovations as of the beginning of 2023 (March 11th, to be exact for the Club Rooms).
There's no saying when the renovations will be completed, but the refurbished rooms are set to feature classic characters.
And by classic, I'm talking about Mickey, Minnie, Goofy, and the rest of their original cartoon pals!
Despite the renovations to the BoardWalk hotel itself, the promenade and restaurants are still currently open for business.
Is the BoardWalk a Deluxe Resort?
The BoardWalk Inn IS a deluxe resort which means you'll be granted a selection of excellent perks.
But that means you'll pay the price for those privileges!
As well as having access to luscious bedrooms, you'll get:
An easy walk to Hollywood Studios + Epcot
Extra time in the parks on select evenings (Extended Evening Hours!)
Early entry to the parks
Early access to Individual Lightning Lanes
Extended access to dining reservations (you can book earlier!)
Access to Disney transportation
Free parking at your resort and the parks
Online check-in
Free towels at the water parks (though you'll only save a paltry $2 here)
If you want to be closer to the parks though, I suggest booking one of the Disney monorail hotels!
There you have it: the ultimate guide to Disney BoardWalk restaurants that will help you plan your trip!
What are your favorite Disney BoardWalk restaurants? I'd love to hear your thoughts in the comments below!
Related Posts: