If you're heading to Disney World tiny tykes, you may be looking for the best rides for toddlers at Magic Kingdom. Read ahead for my top picks that will keep toddlers happy and entertained!
Visiting Disney World with a toddler for the first time is a magical experience. From the new sights and sounds to the adorable merch, it promises to be a vacation to remember.
But what are the best rides for toddlers at Magic Kingdom that you shouldn't miss?
This park is loaded with classic rides, so you might be feeling overwhelmed trying to make a Disney World itinerary to please everyone.
Don't worry – with this article, I'm planning to make your life way easier.
It covers must-do rides, top tips for a great day, and the most frequently asked questions by parents.
Simply print off the handy infographics at the bottom of the ride list and tick them off as you move around the park.
Now, let's dive right in and uncover the best toddler rides at Magic Kingdom!
What is Magic Kingdom?
Magic Kingdom is one of the main theme parks at Walt Disney World in Florida.
It's home to Cinderella's Castle, which is among the most beautiful Disney castles around the world.
I mean, just look at that incredible paintwork!
This area also boasts the beautiful Main Street, several iconic attractions, character parades, and the incredible nighttime firework show.
It's probably the most "Disney-esque" park on the 25,000-acre Walt Disney World site.
So, it's not to be missed whether you're visiting Walt Disney World as an adult or with kiddos!
What Rides Can Toddlers Go On at Magic Kingdom?
Before we dive into the best rides for toddlers at Magic Kingdom, you might want to know which rides are suitable for them.
Below, you'll find the ultimate list of all suitable rides for toddlers at Magic Kingdom:
Aladdin's Flying Carpets
Astro Orbiter
Buzz Lightyear Space Ranger Spin
Carousel of Progress (I love this ride, but it's too long and boring for most toddlers!)
Peter Pan's Flight
Pirates of the Caribbean
Mad Tea Party
Walt Disney World Railroad
Winnie the Pooh
Tomorrowland Speedway (if your toddler is taller than 32")
Jungle Cruise
It's a Small World
Dumbo The Flying Elephant
Prince Charming Regal Carousel
Journey of the Little Mermaid
Haunted Mansion (though it's too spooky for many toddlers!)
People Mover
So, that's 17 suitable rides that you can head on with your tiny tykes.
If you do want to ride some of the fastest rides at Disney World with strict height requirements – swapping parents is the way to go!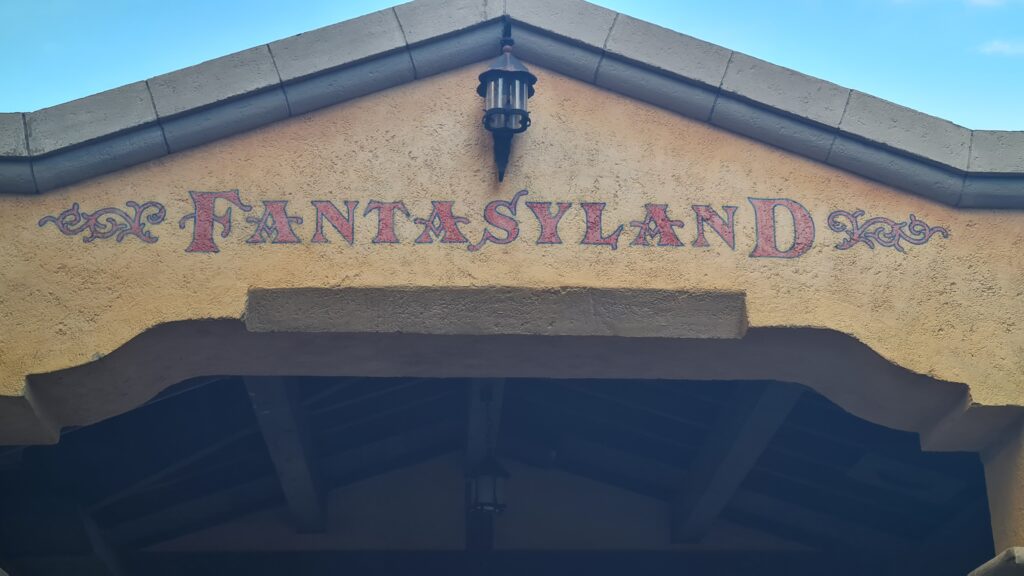 Is Magic Kingdom Good for a Two or Three-Year-Old?
I'd say that Magic Kingdom was the best Disney park for toddlers as it's essentially designed for small children.
There are a few thrill rides like Splash Mountain, Big Thunder, and Space Mountain.
But there are so many kid-friendly attractions that you can spend an entire day here and still not cover it all.
Is Magic Kingdom Scary for Toddlers?
Some of the dark rides like Haunted Mansion and Winnie the Pooh might spook some toddlers.
It's tricky to figure this out in advance if they're visiting for the first time.
So, you'll need to try your best to assess your toddler's usual behavior and make a judgment call.
If there are tears, Mickey waffles or a few treats are bound to get them bouncing again.
10 Best Rides for Toddlers at Magic Kingdom
Peter Pan's Flight
Peter Pan's Flight is one of the best rides at Disney World for toddlers.
It features some of the company's best characters (Peter Pan, Wendy, and Captain Hook!), and kids love the ride vehicles.
I don't think it's worth the crazy queue times that you'll see during peak periods.
But it's a wonderful and classic dark ride that you can use Genie+ for if you're trying to cover more ground.
And to be honest, even adults will be charmed as they soar above the London skyline and battle Hook and the Croc alongside Peter.
If you can, I recommend heading straight for this line at rope drop as the queues will be way more manageable.
Location: Fantasyland
It's a Small World
I couldn't write a list of the best rides for toddlers at Magic Kingdom without mentioning It's a Small World.
You might regret going on this when that famous song is circling through your brain for hours after.
But the ornate set pieces, friendly dolls, and interesting cultural representations of kids around the world always appeal to little ones.
This charming boat ride is on the longer side.
However, I've never thought that toddlers would lose interest in this one as there's just so much going on.
Location: Fantasyland
Prince Charming Regal Carousel
You truly can't go wrong with a classic Carousel ride.
Adults will appreciate the vintage horses and beautiful design work, but toddlers will adore the feeling of riding their first horse.
Just be prepared to wait as they painstakingly pick out their favorite horse! They'll be strapped in too, so don't worry about anything going awry.
If you're concerned about their safety, they should be able to ride with you. Otherwise, you can sit on one of the low-down carriages where parents and kids can sit side-by-side.
The ride line always moves well, which keeps wait times reasonable throughout the day.
Location: Fantasyland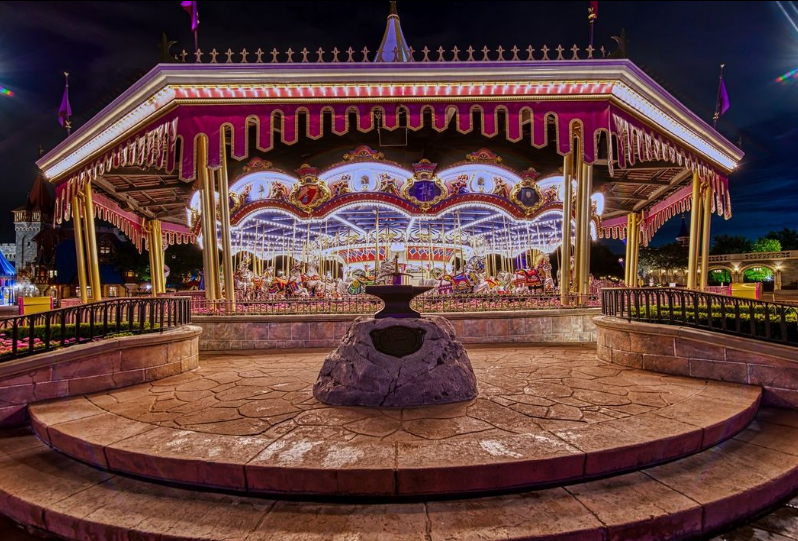 Dumbo the Flying Elephant (+ Astro Orbiter and The Magic Carpets of Aladdin)
I've put Dumbo the Flying Elephant on my shortlist of the best toddler rides at Magic Kingdom.
But I've kind of made it a tie between Dumbo, Astro Orbiter, and The Magic Carpets of Aladdin.
As honestly, they're the SAME RIDE but Dumbo clinches the top spot because the theming is adorable.
All three rides have the same premise; you soar above the parks in a vehicle that you can move up and down.
No more, no less.
But don't worry – kids love it as it's as close as they can get to flying!
Just be prepared to wait for Dumbo, as it's more popular than the other two versions of this ride.
Don't have time to wait? Astro Orbiter is an awesome alternative that'll let you pack more into your day.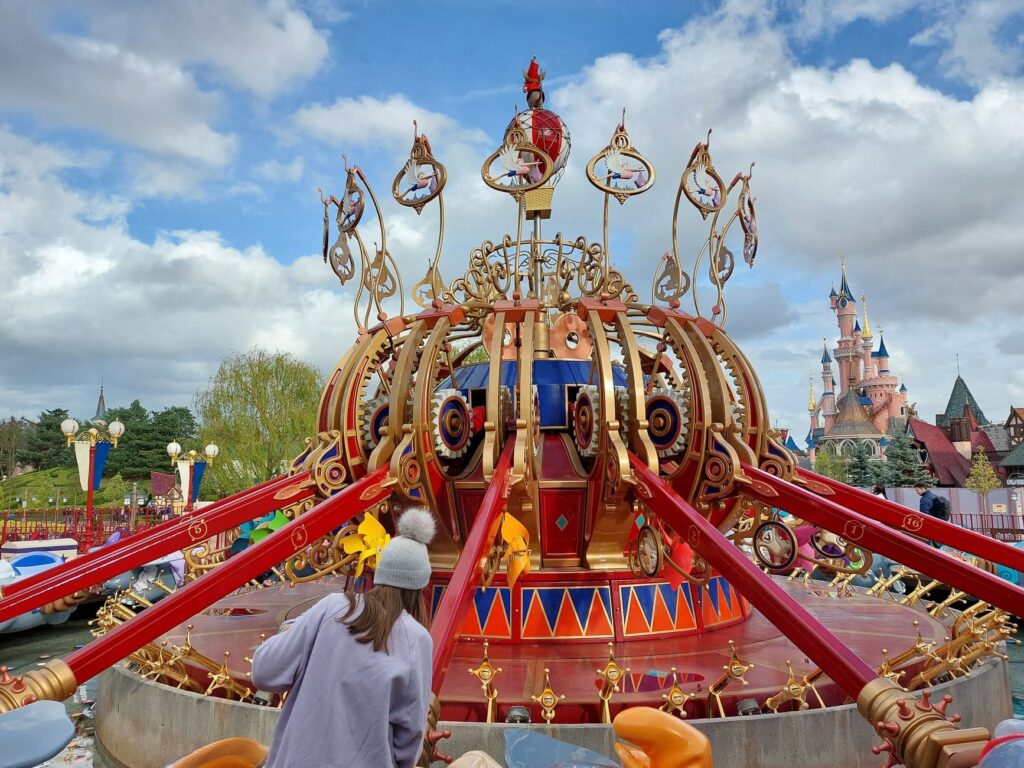 Locations:
Dumbo – Fantasyland
Astro Orbiter – Tomorrowland
Magic Carpets of Aladdin – Adventureland
Under the Sea – Journey of the Little Mermaid
Journey of the Little Mermaid is another classic kiddie dark ride that takes you through The Little Mermaid.
The music in this ride is lovely, and you'll run into Ariel, Flounder Sebastian, and the rather terrifying Ursula along the way.
Okay, she's not that scary. But she is 7.5 feet tall which might spook a few toddlers.
The ride is filled with animatronics (there aren't any live actors here!), and the bright colors and lighting effects are captivating for children.
As it's a relaxing ride in a clamshell, it's a great way to escape the heat and recoup.
While you're waiting to leave the ride, make sure you encourage your toddler to wave to the newly-married Eric and Ariel.
I mean, it would be rude not to.
Location: Fantasyland
Mad Tea Party
I'm the kind of gal who always struggles with motion sickness, so Mad Tea Party has never been my favorite ride.
But it makes toddlers GIDDY with excitement.
We're talking chuckling and seeing how quickly they can spin the teacup – you've been warned!
The bright colors of the ride are super appealing, and the frantic music just adds to the sense of excitement.
Ride times are usually quite good, which makes it a good ride to head to if headlining rides are packed.
Or you sense that there's a tantrum coming on!
Location: Fantasyland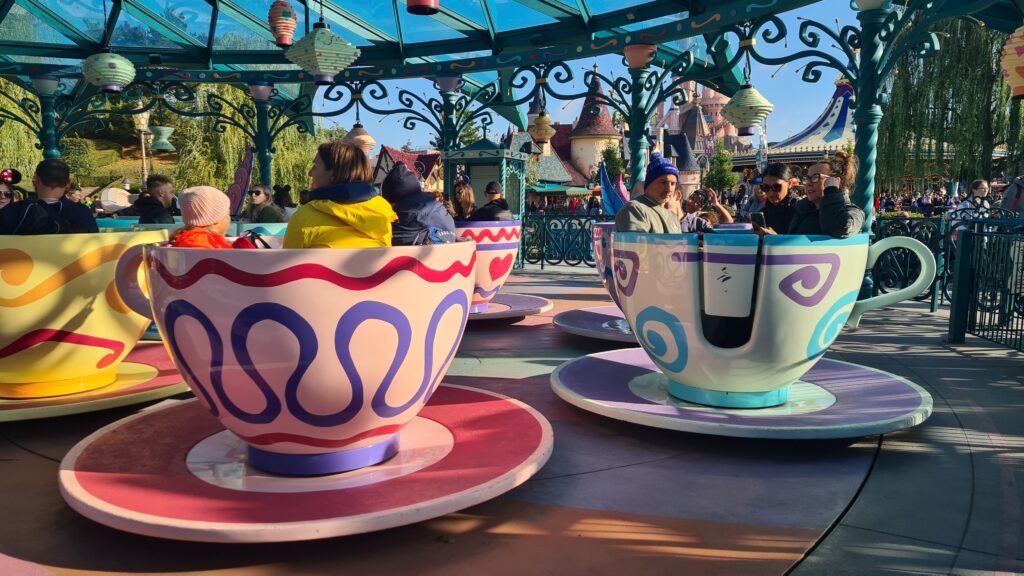 Pirates of the Caribbean
Pirates of the Caribbean is one of my favorite rides for toddlers at Magic Kingdom as it's just a classic.
There are a couple of drops that might alarm very small children, but most will find it thrilling.
It's worth noting that the darkness and swashbuckling might be a bit much for a few kids.
But I'd say that parents should be able to make a call before going in.
In case you were wondering, there's no stabbing or blood in this ride.
It centers around the "pirate life" of plundering towns for gold and drinking heavily.
You know, the usual.
If you can't decide on this one, I suggest watching a ride-through before getting in line.
Location: Adventureland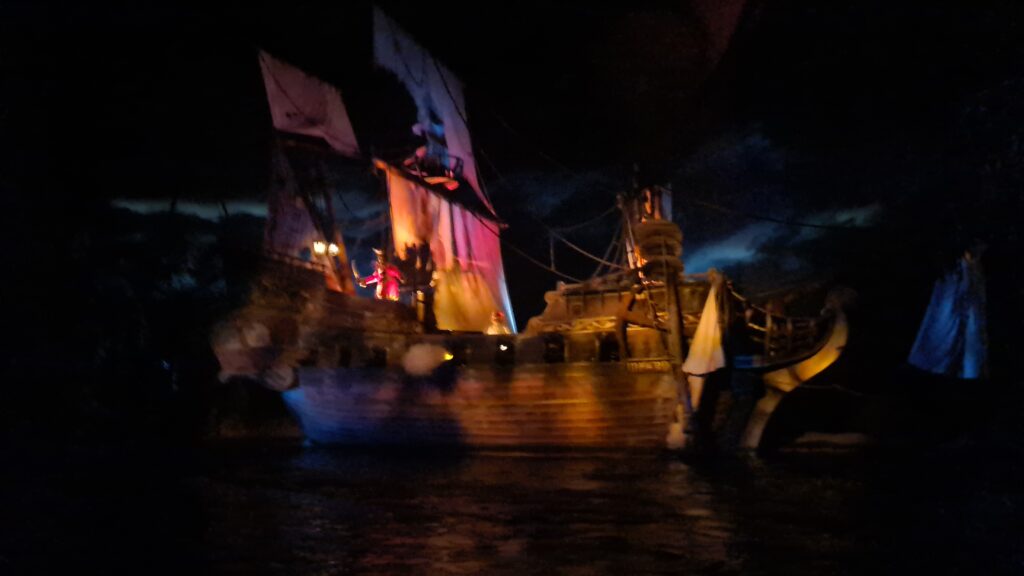 Tomorrowland Speedway
Tomorrowland Speedway does have a height requirement of 32", but it's one of the best rides for toddlers at Magic Kingdom.
Because it feels like you're driving and that's just a novelty that most kids go nuts over.
It's a simple ride, but it's always a winner.
Buzz Lightyear Space Ranger Spin
If you're looking for toddler rides at Magic Kingdom that'll bring out your competitive side, check out Buzz Lightyear.
There are so many great tips that you can use to win this game, but I suggest letting your kids shoot away and taking the loss.
They love winning, and the end-of-ride photographs will show how excited they were!
They don't necessarily have to shoot on target either.
The bright displays and fun animatronics should be enough to keep them engaged.
Location: Tomorrowland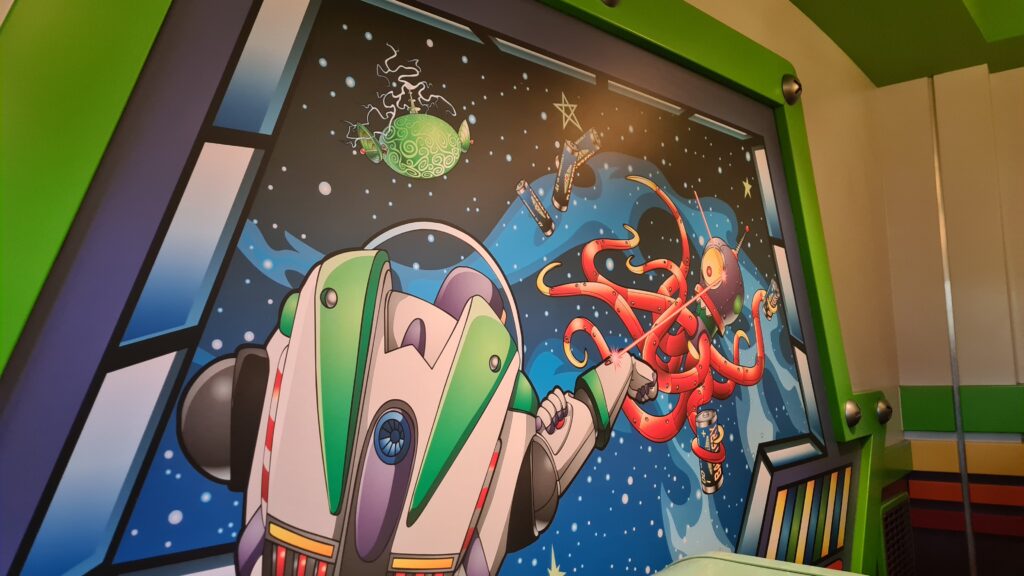 Jungle Cruise
The final spot on my list of the best rides for toddlers at Magic Kingdom is Jungle Cruise as it's perfect for all visitors.
I'd say it was a bit old-school as you can see real animals on toddler rides at Animal Kingdom (like Kilimanjaro Safari!)
But it still has a signature charm and the animatronic animals should make kiddos laugh.
I can't promise they'll understand any of the jokes though.
Location: Adventureland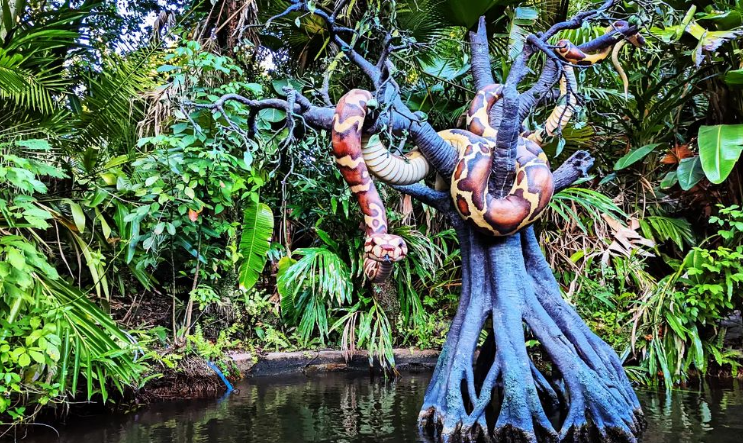 BONUS: The Many Adventures of Winnie the Pooh
I've not included this on my main list of the best rides for toddlers at Magic Kingdom for a couple of reasons.
Don't get me wrong, it's great.
I just think there are better dark rides in the park (namely Pirates of the Caribbean, Haunted Mansion, and The Little Mermaid).
The ride takes you through Hundred-Acre Wood as you interact with Winnie, Rabbit, Eeyore, and Piglet.
There are a few cute songs along the way but watch out for Tigger who can upset some kiddos (he's LOUD!).
I think it's worth checking out as the colors and storybook feel are creative and uber-charming.
But sometimes, the queues are just too long to deal with for the length of the ride and what you'll get out of it.
Location: Fantasyland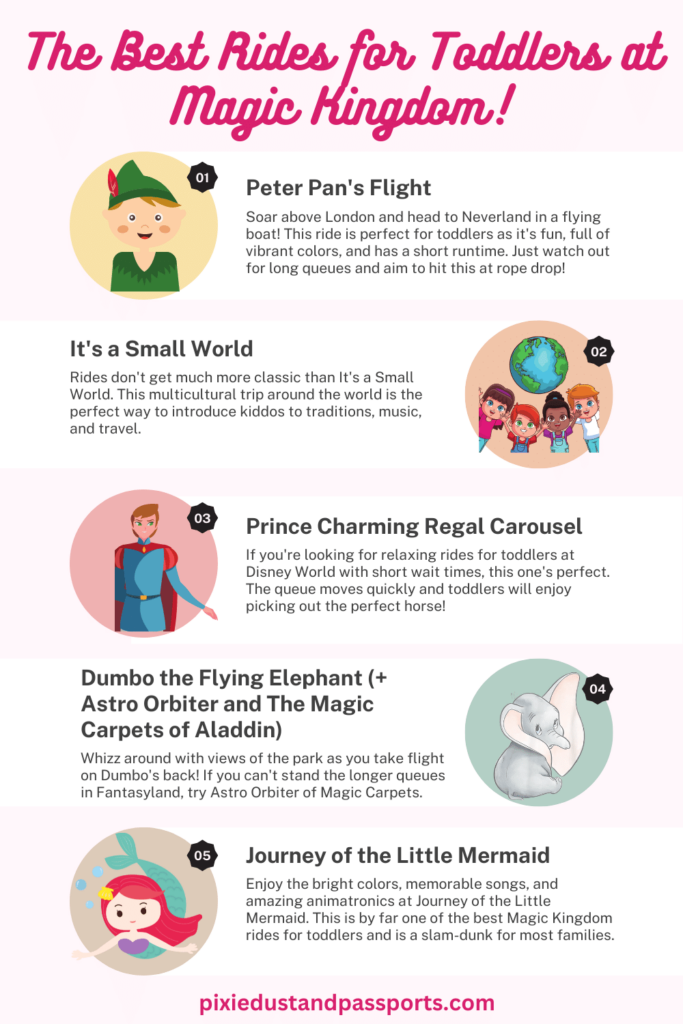 Tips for Visiting Magic Kingdom with Toddlers
Plan ahead
Visiting any of the Disney World parks with toddlers will feel like running a marathon. There's just so much to do.
Take regular breaks
Don't feel the need to power through an entire day just to cover every ride.
Instead, take regular breaks and bring tons of snacks and refreshments to keep your kid's energy up.
Take photos of them
You never want to think of losing your child while you're at the most magical place on earth.
But it might happen.
To make sure you find them quickly, take a photo of them in their outfit at the start of each day.
This will give Cast Members the information they need to send out an alert.
Naptime is your friend
You might think you have the most energetic toddler around, but every youngster needs a nap on Disney Days.
They're just tiring for everyone!
I suggest booking into one of the best Disney World hotels for toddlers to pick somewhere suitable for a midday nap.
I've always liked the monorail hotels as they're easy to travel to and from.
If these are out of your budget, there are several offsite options that are still close enough to nip in and out of.
Check character meeting times on the My Disney Experience App
There's nothing worse than missing a character meet or having to queue forever.
To avoid having your toddler wait around for too long, check character meet times on the My Disney Experience App before visiting.
FAQs
What are the best rides for toddlers in Frontierland?
As they probably won't be tall enough for Big Thunder Mountain (40"), they can check out Country Bear Jamboree or Tom Sawyer Island!
What are the best rides for toddlers in Tomorrowland?
Along with Tomorrowland Speedway, you'll find the People Mover stop and Carousel of Progress. But don't miss Monsters Inc. Laugh Floor either!
What are the best rides for toddlers in Fantasyland?
There are too many to list! I think Peter Pan's Flight and Dumbo are great, but virtually any of the rides in this land are suitable for toddlers.
If you want to meet one of the Disney princesses, Enchanted Tales with Belle is fabulous.
What are the best rides for toddlers in Adventureland?
In Adventureland, you'll find Jungle Cruise, Magic Carpets, Pirates of the Caribbean, and the Enchanted Tiki Room.
Should I use Rider Switch?
If you've never heard of Rider Switch, it's basically used when a child doesn't meet height requirements for a ride.
Or you know, they just don't want to ride it!
This allows a member of your party to wait in a room with a kiddo while the others go on the ride.
They can then switch out the parent so everyone can ride.
This is a great idea for families with older children and toddlers as everyone gets a turn without queueing twice.
Where is the Baby Care Center at Magic Kingdom?
Every park has one of these, and the Magic Kingdom Center is on the left of Main Street next to the First Aid Station.
Where can I find strollers at Magic Kingdom?
You'll need to get strollers for Disney World as there's simply so much walking. Pack your stroller with cool towels, snacks, and plenty of water to see you through the day.
You can get strollers on the right-hand side of the entrance gates near the Walt Disney World Railroad bridge.
They're quite pricey, so I recommend bringing your own if possible or buying one of the best strollers for Disney World.
They're also not overly comfortable as they're made from molded plastic!
I hope that this guide to the best rides for toddlers at Magic Kingdom has been helpful! What are your favorite rides at Magic Kingdom (for kiddos and adults!)? I'd love to hear about them in the comments below.
If you enjoyed this post, why not make your trip even better with these related articles?