If you've been searching for the best Disney apps that will take your trip to the next level, just keep reading! This handy list of Disney apps will make your trip seamless and help you have tons of fun.
Trying to plan the perfect Disney vacation can be tricky for even the most seasoned parkgoer.
But don't worry – this list of the best Disney apps will help you nail everything from entertainment to packing lists and wait times!
There are a few obvious apps on this list like the My Disney Experience app and Google Maps. But you'll also find awesome downloads for Disney podcasts, the Food & Wine Festival, and even options for tracking your family.
Whether it's your very first trip or you're a theme park expert, these are the best Disney apps that will make your trip MAGICAL.
The Best Disney Apps to Download For Trip Planning
1. Disney+
If you want to get hyped up for your vacation, then you'll want to download Disney+ – stat!
This is one of the best Disney apps by a mile as you can watch everything from classics like Peter Pan to Marvel flicks.
It's a fabulous choice for long-haul flights, car rides to the parks, or standing in line.
Just remember that you'll need Wi-Fi to stream anything. So, I always recommend adding a few titles to your library before heading off!
Download links
---
2. WDW Radio
Next on our list of the best Disney apps to download for your trip, we have WDW Radio!
This is a pretty invaluable resource if you're not in the parks but want the latest news and tips for visiting them.
It's essentially a podcast.
But it's entirely free and just aims to share everything there is to know about Disney Dining, hotels, and much more!
If you want to learn more before your trip, it's worth joining the WDW Radio Facebook group for the latest updates.
This is also helpful to pull up during your trip, as there's nothing better than being completely on top of things.
And if you ever want to pull up past episodes, you can just head straight into the archives.
Download links
***unfortunately it's not available on the Play Store quite yet***
---
3. Countdown
You don't need to download this one.
But a countdown app is one of the best Disney apps to get you pumped up!
These apps allow you to input the date of your next trip and watch the days tick down right before your eyes.
You'll be able to take screenshots to update Instagram followers or make it your phone wallpaper.
Anything goes!
If you need to find a few Disney Instagram captions to put alongside your screenshots, I've got you covered there too.
Download links for a few awesome options!
Countdown!
Countdown to the Mouse
Countdown for Disney App
Days to go WDW App
---
4. Stakeout
If you're on the hunt for the best Disney apps to help you with dining reservations, you need Stakeout.
This app essentially lets you grab hard-to-find restaurant reservations without constantly refreshing the official apps.
It will notify you as soon as a dining reservation becomes available.
Then, you just need to RUN to My Disney Experience or your Disneyland app to snag the reservation.
You're allowed to use the app for free, but you'll only get one reservation.
If you want any more, you'll have to shell out for the upgrades.
I'd say this was an amazing app if you want to score character dining reservations for Disney World. Cinderella's Royal Table, here you come!
Download links
---
5. Pinterest
This might seem like an obvious one, but Pinterest just had to be on my list of the best Disney apps.
It's crucial for finding planning lists, creative outfits, character dining tips, and virtually anything else.
You usually need to dig for a while to find useful content. But I promise that looking through the Pinterest boards is worth it for the reward!
If you have a Pinterest account, make sure you remember to pin anything that you want to use later or go back to.
It'll make finding specific posts way easier!
Download links
---
Best Disney Apps to Download For the Parks
6. My Disney Experience – Walt Disney World
My Disney Experience is probably the most important Disney app you'll use during your trip to Walt Disney World.
To be honest, you won't be able to navigate your Disney adventure without it.
Not only is this where you book Disney+, dining reservations, and other extras, but it even allows you to order food!
Oh, and you can use it before visiting to check out any menus for the restaurants you'll be visiting.
But that's not all.
This is one of the best Disney apps for checking wait times and park hours, booking lightning lanes, and navigating different lands.
If you find yourself lost at any point, you can also use My Disney Experience + GPS to get back on track.
For a concise list of exactly what this app does, check this out:
Check restaurant menus
Find characters
Check ride wait times
Check park hours
Find showtimes
Find out where you are in the parks with a map
Mobile orders for restaurants
View hotel reservations
Check-in to your hotel
Buy tickets for the parks
View your PhotoPass pictures
Sort Genie+ and Lightning Lane bookings
---
What about the other parks?
The other parks also have their own apps that you can download to make your experience easier.
These apps aren't quite as sophisticated as the My Disney Experience App, but they're still extremely useful.
They do most of what the Walt Disney World app does (minus anything that's park-specific).
Disneyland
Download links
Disneyland Paris
Download links
Hong Kong Disneyland
Download links
Shanghai Disneyland
Download links
Tokyo Disney Resort
Download links
---
7. Hidden Mickeys
This is one of the best Disney apps around if you're traveling with kiddos (or are a kid at heart!).
The app contains tons of Hidden Mickeys that you'll be able to find around the parks.
It's made by Steven Barrett and contains everything from weird Mickeys in the bathrooms to more obvious ones that are in plain sight.
The app works by using your location to show all the Hidden Mickeys that are around you.
It'll give you hints to find them and you can even compete with your family members if you're feisty.
The app will award you a score when you find Hidden Mickeys and you can tot them up at the end of your trip.
It's not one of the most useful apps in the world, but it's one of the best Disney apps for treasure hunters!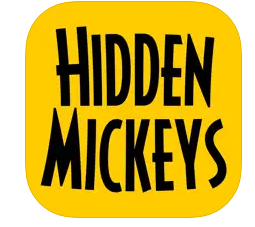 Download links
It's technically free, but you can get upgrades if you want!
---
8. Accuweather/WeatherBug
It's relatively basic, but you'll probably want to download a weather app for your trip.
Florida's weather doesn't change that much but knowing whether you'll need an umbrella or not is always handy.
Both WeatherBug and AccuWeather are extremely accurate.
So, download whichever user interface you prefer.
Download links
Accuweather
WeatherBug
---
9. Family Locator
If you are traveling in a large group or with tiny children, you'll want to download Family Locator by Life360.
This app is a complete lifesaver as it can find anyone within your party as long as they have the app downloaded.
This is slightly trickier for tracking toddlers. But as long as a parent is with them, you'll be able to pinpoint them!
I've found that this is one of the best Disney apps for families with teens as it lets them explore on their own without parents panicking.
And hey – you can also use it to track phones if they get lost (if you don't have FindMyiPhone!).
Download links
---
10. MousePerks+
If you happen to be a Tables in Wonderland member, then you might want to download MousePerks+.
MousePerks won't be for everyone, but it offers great discounts on dining and shopping at the parks.
It's mostly used at Walt Disney World, but the discounts usually work at Disneyland California too!
Unfortunately, it's currently only available to Android users.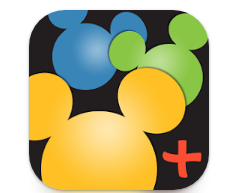 Download links
---
11. Disney World Lines from TouringPlans.com
If you don't want to use the My Disney Experience app, Disney World Lines is a great alternative.
This app is made by TouringPlans.com and lists every single ride that you might want wait times for.
It's among the best Disney apps if you don't want to bother trawling through My Disney Experience. But honestly, you can probably skip it if you want to keep things in one space!
One thing that I do love is the fact that you can access a crowd calendar that helps you avoid the busiest park days.
You can look at crowds for 10 days at a time, giving you the scope to check crowds at each park for your whole trip.
This is useful if you want to try and bypass queues at Magic Kingdom by heading to Hollywood studios (for example!).
If you want, you can also use the app to create an itinerary that you can check off as you go.
To access all the features, you need to pay a small subscription fee. I'd say it wasn't entirely necessary, but it's totally up to you!
Download links
---
12. Magic Guide for Disney World
Okay, this isn't one of the best Disney world apps for anyone that loves My Disney Experience.
But it can be a useful download if you want to find wait times for rides or park hours without finding it on MDE.
It's also quite a good app for organizing dining reservations (and sharing it between your party!).
I'll also be completely honest – I just think this is one of the Disney apps that looks really cute and works on the Apple Watch.
Download links
---
13. Heads Up!
If you're looking for the best Disney apps that'll keep you entertained in line, you can't beat Heads Up!
You might annoy a few people in line with this trivia game, but most people will want to download it for themselves.
Trust me, I've been there.
You can select categories like celebrities, books, and pop songs.
But you can also choose a Disney category that'll get you all hyped for your next ride.
To play the game, you just hold a phone up to your head and flip it up and down depending on your answer.
It's a great way to pass the time and costs nothing!
Download links
---
14. Kenny the Pirate Character Locator
Character Locator by Kenny the Pirate is technically a website.
But it also operates as a downloadable that you can use to find full character schedules and show schedules.
This is one of the best Disney apps for finding characters as Kenny has insider tips that'll get you in line quickly.
I also adore the fact that Kenny lists character meals around the parks, rare meets, and even location updates due to rough weather.
It's a bit of a bummer that you have to pay for the website subscriptions, but it's affordable for most families.
Download links
Here's the website that you need to access!
---
15. WDW Food & Wine
If you're planning to head to the EPCOT Food and Wine Festival, you'll want to get the WDW Food & Wine App.
It's among the best Disney apps for anyone who wants to track down the best food at Epcot.
This app isn't overly complicated. It just shows you food menus and prices of everything on offer.
If you're trying to eat around the world, you'll be able to create a personal wish list of must-eat items.
Then, you can tick them off as you move!
I love this app for keeping track of the Food & Wine festival as it stops me from scribbling things down on paper.
Download links
---
Useful Disney Apps to Download for a Seamless Trip
16. Google Maps
I might sound like Captain Obvious here, but you're going to want to download Google Maps before your trip.
Most smartphones have this app built-in, but it's a total lifesaver if you're not staying onsite.
Not only will it help you find your resort after the fireworks, but it's ideal for finding restaurants and parts of Disney Springs!
Just make sure you have your GPS switched on when you want to use it.
I've even written a related article on the address for Disney World parks and hotspots. So, you won't ever be lost!
Download links
---
17. Lyft or Uber
No list of the best Disney apps would be complete without Lyft or Uber.
The ride service app that you download is completely up to you.
I have a soft spot for getting Ubers at Disney World as the drivers tend to know where they're going.
But if you want to get one of the famous Disney Minnie Vans, you'll need to use Lyft!
Just be aware that the Minnie Vans will set you back far more than an Uber. So, decide how important the aesthetics are before booking.
I've found that ride-hailing services are awesome if you're staying offsite and haven't hired a car.
But it's also fabulous for heading back to Disney hotels when you don't want to wait for free transport provided by the parks.
Hey, we've all been there!
Download links
Uber
Lyft
---
18. Play Disney Parks
Play Disney Parks is a total godsend if you're trying to keep busy while standing in queues.
It only launched in 2018, but it's quickly become one of the best Disney apps for families.
There are games that you can play in different queue lines which give you points and tons of fun trivia.
And the games are themed to the ride line that you're standing in!
The Peter Pan game is particularly good, but you should keep an eye out for the Galaxy's Edge data pad.
It'll help you translate Star Wars phrases around the park, rejig droids, and everything in between.
It's one of the best Disney apps around as it keeps kids engaged and makes queueing seem FUN.
Which you know, is never easy.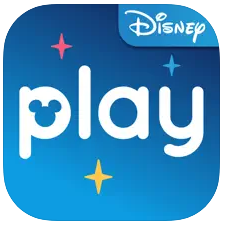 Download links
---
19. Instagram
No list of the best Disney apps would be complete without Instagram!
You probably already have this on your phone, but you might not realize how important it is for Disney.
This picture-sharing app lets you search for outfit inspiration (for Disney Bounding!) and share your trip with friends.
It's also worth checking hashtags for the parks, restaurants, or hotels you're visiting that day and filtering to recent posts.
This should give you a decent idea about the weather and current crowd levels in the parks.
And if you want to make everyone jealous, post a few photos with kitsch Disney Instagram captions!
Don't hate the player, hate the game.
Download links
---
20. GasBuddy
GasBuddy is one of the best Disney apps to download if you're planning to rent a car for Disney World.
It's super handy if you're low on gas as it shows you nearby gas stations and prices at the pump.
This is great if you want to save a few cents and you'll even get GasBuddy points if you use their payment method.
I wouldn't say that it's an essential download.
But who doesn't love making a trip slightly cheaper and not worrying about finding gas in an unfamiliar place?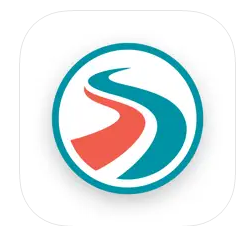 Download links
---
21. TravelSpend
To round off my list of the best Disney apps, it's TravelSpend!
I know this one is a bit of a mood-killer, but you'll still want to keep track of your spending while you're on vacation.
After all, the Disney bubble needs to pop eventually!
This handy app lets you track your spending, split costs, and even keep track of payments you're owed.
With this app, it's literally impossible to spend outside of your set budget.
Well, in theory.
Download links
---
There you have it: an ultimate guide to the best Disney apps that you should download ASAP!
Do you have any Disney apps that you think are worth checking out? I'd love to hear your thoughts in the comments below.
Related Posts: