Have you been asking yourself "how many people go to Disney World a day"? This in-depth dive will tell you all about daily attendance numbers, annual foot traffic, park capacity, and even the best times to visit!
It's no secret that Disney World in Orlando is one of the most popular tourist attractions in the world.
With top-tier rides, amazing experiences for kiddos, and some of the best merch ever, it's unsurprising that this place makes tons of cash each year.
But just how many people go to Disney World a day? Do the parks ever reach capacity? Is there a good time to visit the parks that will help you avoid crowds?
Don't worry – I've got all the answers.
Now let's dive right in and uncover the truth behind Disney World attendance figures that might just surprise you!
Walt Disney World Daily Visitor Numbers
Although Disney World's visitors took a serious dip because of closures in 2020 and 2021, we still have a decent idea of regular visitor numbers.
It's no secret that the Magic Kingdom had the most impressive numbers drawing in around 20.96 million visitors in 2019.
If we divide this by 365 (which assumes regular numbers each day which isn't entirely true!), this leaves us with an impressive 54,784 visitors for that park alone.
Yep, that's PER DAY.
If we add up the rest of the main park figures, we get 58.78 million visitors (if you include EPCOT, Animal Kingdom, and Hollywood Studios).
If we do a quick bit of math, we're left with approximately 161,035 visitors a day to the main parks (excluding the water parks).
And if you compare these numbers to the 56,000 visitors that used to visit each day in 2015, the increase is major.
Now that we're into 2023, let's look more closely at all the parks…
Research shows that the parks attracted the following numbers of visitors each day in 2021:
Magic Kingdom attendance numbers: 57,000
EPCOT attendance numbers: 34,000
Animal Kingdom attendance numbers: 38,000
Hollywood Studios attendance numbers: 31,000
Blizzard Beach attendance numbers: 3,287
Typhoon Lagoon attendance numbers: 6,164
If we do a bit of mathematical hocus pocus, we're left with a grand total of 169,451 people that visit Disney World a day across ALL PARKS.
Now that's a lot of foot traffic!
Just bear in mind that these numbers are calculated averages and numbers will always fluctuate day-to-day.
The main thing to remember is that the parks will be busy whenever you visit. You may get a bit of respite during off-peak periods, but even those are starting to book up!
Walt Disney World Annual Visitors
Now that we've looked at how many people go to Disney World a day, why don't we tot things up to get those annual figures?
Based on the 2021 figures I've already talked about; Disney World gets an average of 62 million visitors annually across all parks.
But don't worry – the 43-square-mile space at Walt Disney World offers more than enough space for guests without you needing to jostle elbows.
Phew!
While these figures were somewhat reduced by the park reservation system, it's still a decent idea of just how popular Disney World is!
What Is the Capacity of Walt Disney World?
This is a bit of a tricky question if we're taking the Walt Disney World reservation system into account.
Over the years, Disney World's capacity has changed quite a bit.
It's hard to pin down the actual capacity figures as they're not publicly shared.
But if we consider average guest numbers of around 57,000 visitors at the Magic Kingdom, I'd say that the current system pulls this down slightly.
It's believed that Walt Disney World ran at around 25-35% capacity during the pandemic. But the ultimate capacity of the Magic Kingdom is around 100,000.
It would be pretty wall-to-wall, but it wouldn't be impossible to run the parks at this capacity.
According to Finance Buzz, the maximum capacity for the parks is 320,000 on any given day.
Animal Kingdom and Hollywood Studios are smaller than EPCOT and the Magic Kingdom, so their individual capacity is around 60,000.
And EPCOT, it's said to be around 110,000 as there are so many different areas for guests.
Do the Disney parks reach capacity?
The Disney parks sometimes reach capacity, and this is usually during New Year's Eve, Christmas, Thanksgiving, and Halloween.
This is often when special events are running, but the entire holiday season is extremely popular.
And honestly – it's typically the Magic Kingdom that reaches capacity over the other parks!
As you're now required to register your visit in advance of a stay, it's possible that Disney cap the entrance numbers before this is reached.
But I can't say for certain!
In 2023 and beyond, I'd say that Disney is extremely likely to hit capacity.
Not only will guests be reorganizing ruined pandemic trips, but the parks are adding more top-level attractions to draw you in.
And that's not all!
It's also down to ride efficiency improving, people being more open after being cooped up, and safety measures increasing over time.
So, there's no reason not to visit.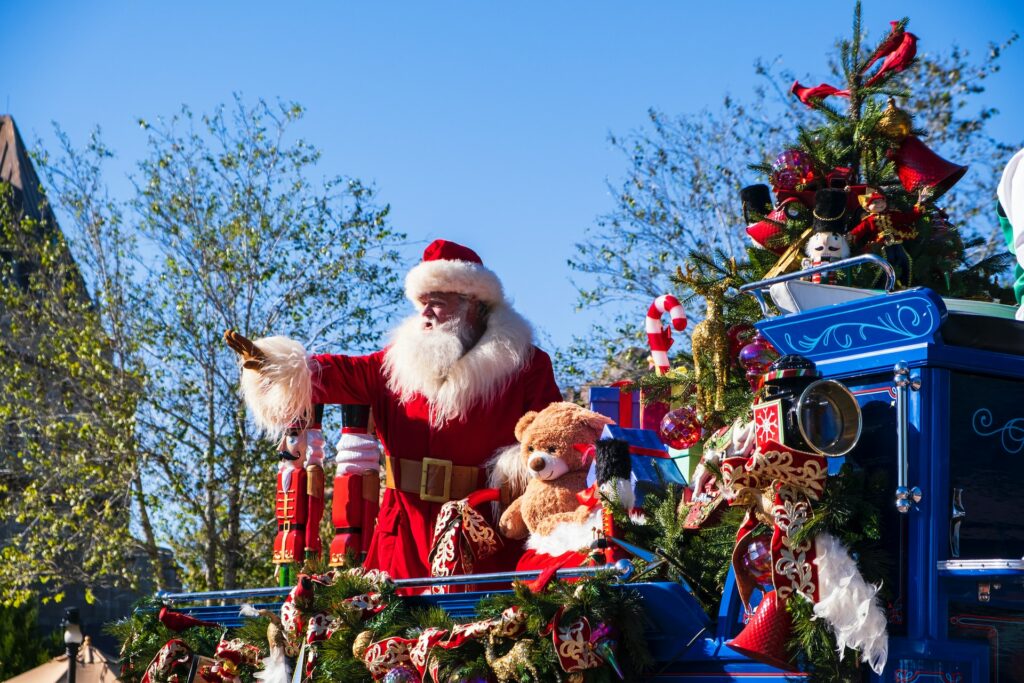 What About If Guests Are Staying Onsite?
If you're staying onsite, you'll still need to book a reservation to avoid being turned away at the gates.
It's a bummer, but it's just the policy in place at the moment!
I totally get it – you used to be able to get into the park with no issues if you were staying at one of the Disney World hotels.
But these days, everyone's in the same boat!
My advice? Book your reservations and hit the parks during rope drop to tick off big-ticket rides first.
The fastest rides at Disney World tend to get busy quickly, but you can also hit favorites like Mickey & Minnie's Runaway Railway!
The Best Times to Visit Walt Disney World (to Avoid Crowds!)
Now that you know how many people go to Disney World a day, you might be looking to rejig your dates to avoid crowds.
Don't worry – I've got you.
I'd say that the best times to visit are any time when there isn't a national holiday in the US.
The parks always reach capacity on Labor Day, New Year's Eve, Christmas, Halloween, Easter Weekend, and the 4th of July.
Although there might be occasions where they don't hit capacity, you'll be competing with locals and international tourists for space.
I've always found that you get good weather and fewer crowds between March and May (except Easter!). But you can also head over during early October and November if you want less busy parks.
I'd say that January and February (not holiday weekends!) are also excellent times to visit. Not only will park and hotel prices take a dive, but the parks usually clear out as kids are back at school.
And if you can only visit during school holidays and peak periods? Honestly, don't worry about it.
You might be waiting longer for rides and have a slightly more stressful time, but it won't adversely affect you.
Just remember to book any character dining, park reservations, and hotels well in advance or you risk them booking out.
What Affects Disney Visitor Attendance?
There are a surprising number of things that affect Disney World attendance.
I'd say that the main things were school holidays and public holidays, but the rain can also seriously impact attendance.
Locals will tend to blow off a visit to the parks if the weather is bad. But don't worry – there are still plenty of fun things to do at Disney World in the rain!
Just don't forget a poncho!
Final Thoughts
Disney World will never stop drawing visitors from around the world as people will always want a taste of magic.
I'd say that visitor numbers might plateau over the next few years unless more space is added to the parks.
But with the pandemic ruining several trips and making people want to visit more than ever, it's impossible to say what will happen!
I'd love to see the reservation system removed to give annual pass holders a chance to enjoy the parks spontaneously.
But perhaps they're a blessing in disguise as they keep park capacity under control.
Regardless of when you visit the parks (and how many people go to Disney that day!), you can have a wonderful time if you just plan ahead.
After all, even a trip to the Happiest Place on Earth requires a bit of forethought!
FAQs
How much money does Disney World make a day?
I've actually delved into this in detail by talking about how much Disney World makes a day. And believe it or not, it's around $19.68 million EVERY DAY!
Is Disney World the most visited place in the world?
Disney World isn't the most visited place in the world (that's apparently the Las Vegas Strip!), but it's certainly up there. I can say that it's the most visited amusement park in the world according to Statista!
What are the changes that Disney World has made to increase attendance?
Disney World has worked hard during and after the pandemic to increase attendance safely. By implementing their reservation system, successfully launching the 50th-anniversary celebration, and even repainting the castle – they're boosting numbers! Plus, adding new rides to the park is certainly increasing attendance!
What are the busy times of year for Disney World?
The busiest times of the year for Disney World are:
During Memorial Day Weekend, the 4th July Weekend, Labor Day Weekend, Thanksgiving (the whole week!), the Christmas period, and around Halloween.
If you visit outside of these periods, you should be good to go.
And if you need to visit during peak periods, you may want to take advantage of single rider lines.
What is the average wait time for rides at Disney World?
It's tricky to say, but average wait times at Magic Kingdom are around 30 minutes per ride, 60 minutes at Hollywood Studios, 40 minutes at Animal Kingdom, and 30 at EPCOT. But I'll say that you can be waiting for popular rides for up to 2 hours!
I hope that this guide has answered the question "how many people go to Disney World a Day?"!
Did any of these numbers surprise you? Are you struggling to keep up with Disney's rising attendance numbers? I'd love to hear your thoughts on park capacity in the comments below!
Related Posts: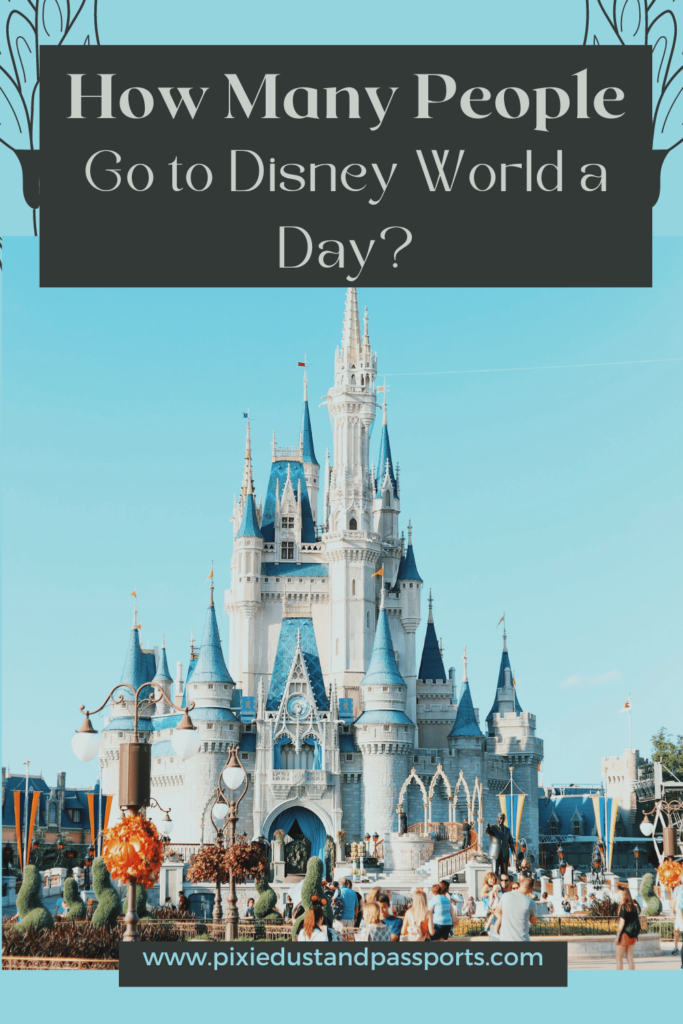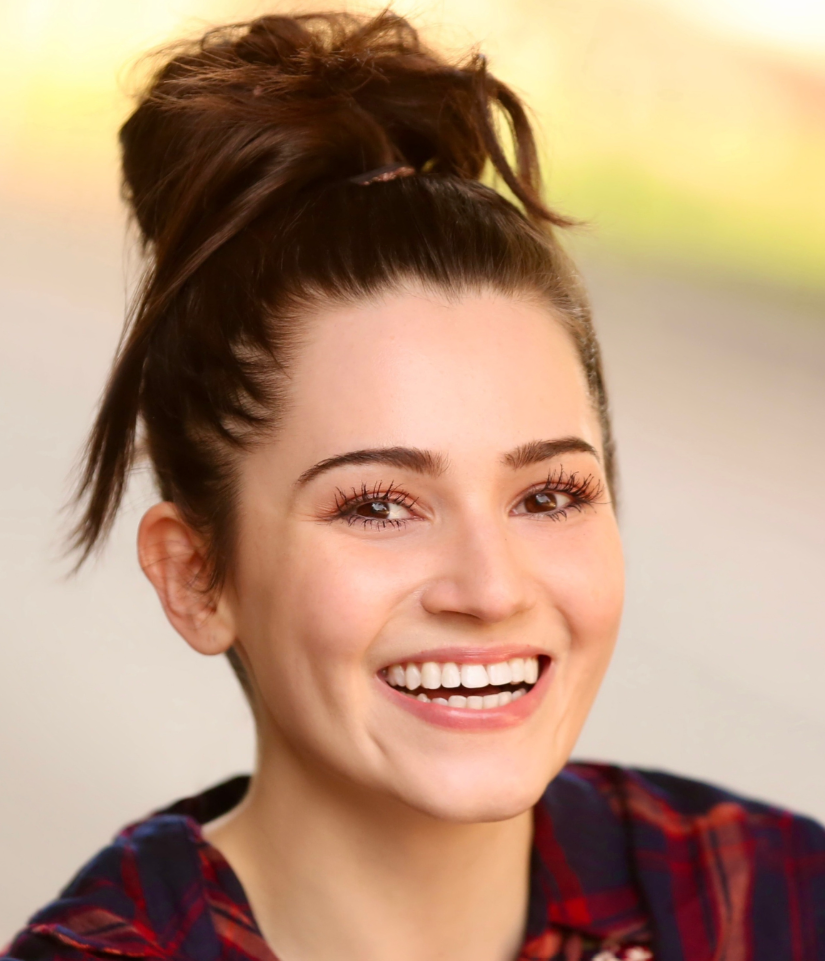 Grace is the creator, editor, and sole writer for Pixie Dust and Passports – a blog that's ALL about Disney! She's made it her life's mission to visit the Disney parks as much as possible and loves trying new snacks, grabbing the latest spirit jerseys, and rocking Loungefly bags. Oh, and she also holds a BA in History from UCL, which makes her a research and deep-dive enthusiast into all things Imagineering.